If you need to connect plenty of legacy serial devices over IP networks, serial device servers can provide a simple bridge between your serial devices and modern industrial automation systems. Serial device servers (also referred to as serial-to-Ethernet converters) can be used to connect devices that use serial-based communications with fieldbus protocols to Ethernet-based networks. With serial device servers, network operators have no need to replace all of their serial devices with Ethernet-based devices, and can save costs and effort as well as enjoy both the simplicity of serial communications and the advantages of Ethernet.

Convert Multiple Serial Devices to IP Networking
The NP5100 Series from 3onedata is a 16/32-port secure serial device server that provide reliable serial-to-Ethernet connectivity for a wide range of serial devices. It supports Real Com, Reverse Real Com, Redundant COM and RFC2217 modes for device control applications. It supports TCP Server, TCP Client, UDP, UDP Multicast and UDP Rang modes for socket applications. It supports Pair Master and Pair Slave modes for pair connection applications. And it supports DRDAS Real and DRDAS TCP Server modes for dual-host redundancy applications. In addition, the NP5100 Series uses the SSL and SSH protocols to transmit encrypted serial data over Ethernet.. It supports SSH, Reverse SSH, Secure TCP Server, Secure TCP Client, Secure Pair Master, Secure Pair Slave,and Secure Real COM modes for security-critical applications such as banking, Telecom, access control, and remote site management. Moreover, the NP5100 Series also supports DES, 3DES and AES encryption to ensure the integrity of data transmission and to maximize the security of users' assets.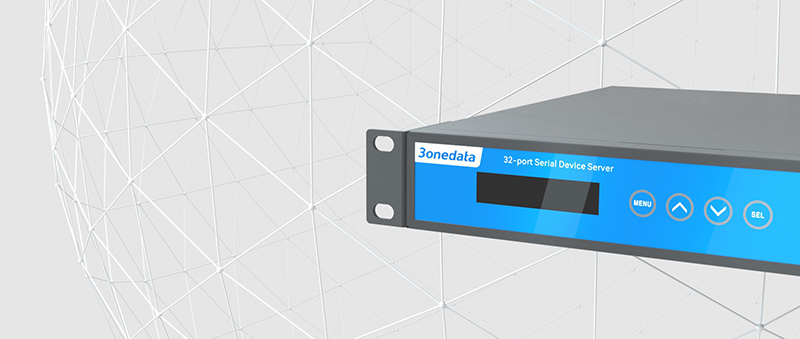 Provide Reliable Serial-to-Ethernet Connectivity
Highlights
A.Industrial-grade level 4 EMC design to endure harsh environments for any industrial applications
B.Isolated dual redundant power provides a second power source in case the primary power input fails, assuring maximum network uptime
C.OLED display makes the basic information of the device visible, improves efficiency of configuration and operation
D.128 KB cache port ensure the reliability of COM networking when network failures occur
E.Provides 128KB buffer for each serial port to record and display the real-time communication data of each serial port in chronological order
F.Abnormal event alarm allows administrators locate faults quickly and exactly
G.Support cross-gateway and cross-router communication
H.Support multiple hosts polling mode, which allows multiple hosts to access the same serial port
I.Support delimiter matching communication, achieving various demands for serial port packaging
J.Support FIFO, compatible with various old type terminal devices
K.Support IP address and MAC address filtering, which can achieve accurate access control easily
L.Support graded user management to implement humanized authority management
M.Support serial port status, parameters and communication statistical monitoring, making the communication status easy to read
N.Support virtual serial port drive access mode and automatic connection recovery after network interruption
O.Flexible serial port data framing setting, which can satisfy user's various demands for data packets segmentation
P.Support standard TCP/IP SOCKET application access
Q.TCP supports multi-connection, which allows maximum 4 users to monitor or manage the serial device simultaneously
R.UDP supports single machine or multi-machine communication, which allows multiple users to monitor or manage the serial device simultaneously
S.Support TELNET and Reverse TELNET modes, build TELNET protocol session to realize the conversion of serial port data and Ethernet data between terminal device and server
T.Support RFC2217 protocol, which can make serial port present in the host as local COM port
U.Support multiple configuration forms like Windows configuration tool, TELNET, SSHD and WEB
V.SSHD and HTTPS can guarantee the access security of data
W.Conduct network diagnosis and troubleshooting via Ping and Traceroute
X.Support ARP function, which can avoid the failure of communication due to the MAC address of serial server being aged by switch or router
Support static routing, routing table could be added manually
Click the model name and visit product page for more information and technical specifications of the
NP5100 Series
.
Applications
1.Dual Ethernet Design
The NP5100 series supports 2 network ports, each with an independent MAC address. Not only that, users can set it to dual IP mode or single IP mode according to the requirements.
In dual IP mode, the two network ports are isolated from each other and work on different network segments for accessing two independent networks, thus achieving backup between different networks. When one of the networks has a problem, the other network can still transmit data normally, ensuring the reliability of data transmission.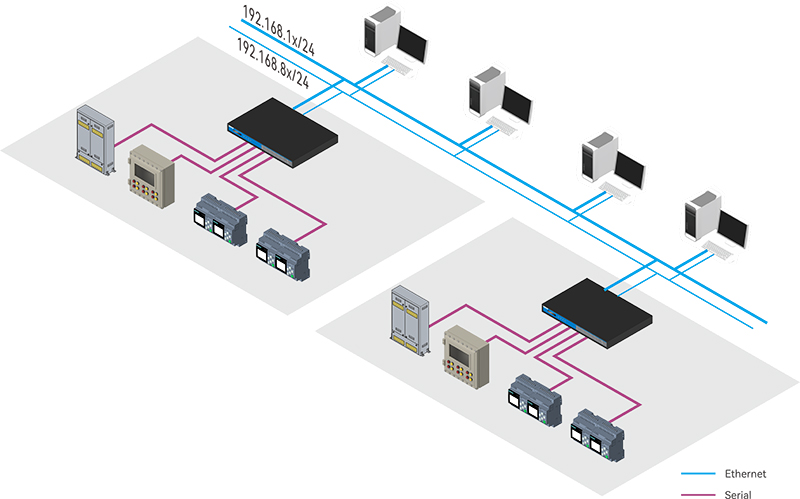 In single IP mode, 2 network ports share a single IP address. Users can configure the redundancy mode in single IP mode to achieve physical backup of the same network segment. In redundant mode, the NP5100 will automatically select another link for data transmission when the primary link fails.

Users can also set the switch mode in single IP mode, which allows multiple NP5100 devices to be interconnected under Daisy chain even without the use of a switch, reducing the user's project budget.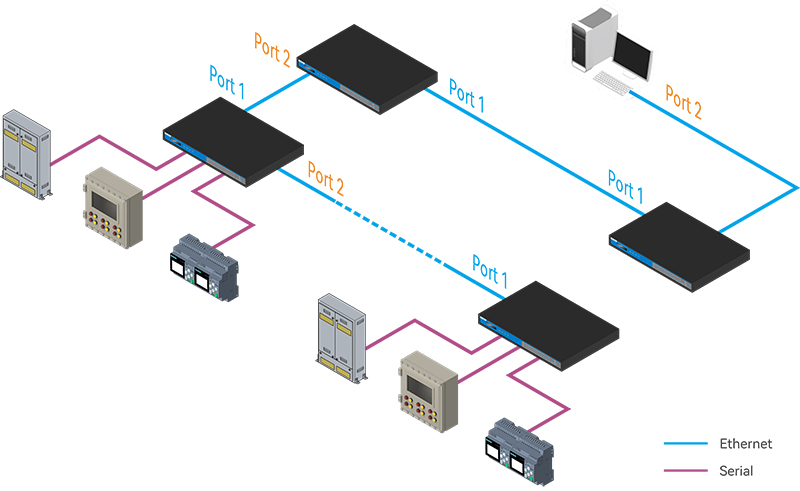 2.Remote Maintenance Application
Most of the telecom-level operation and maintenance rooms are in remote places, and most of the room network equipment such as routers, switches, firewalls, etc. and server equipment such as minicomputers, servers, etc. do not provide graphical human-computer interaction web interface. Their control are dependent on the traditional command line. Engineers usually access the device's control interface through the console port of the equipment (RS-232 standard) and use the corresponding command line to manage the device. However, if these devices were left unattended and the engineers could not be on site immediately, the damage would be enormous.
Thus, engineers have come up with a solution by using a serial server to connect to the console port of a switch or a router, and connecting to Ethernet through the network port of the serial server to remotely log in to the management interface of the network devices in the server room to manage them from the office tens of kilometers away. The NP5100 series with 16/32 serial ports are especially suitable for this application. They can help engineers log in to the console management interface of switches and routers from the Ethernet network with Real Com Mode or Reverce Telnet Mode to assist them keep track of the real-time status of the equipment in the server room.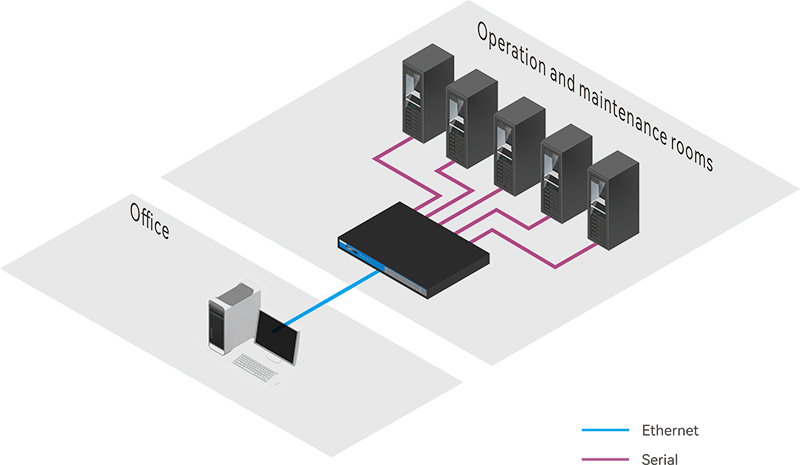 3.Expressway Toll Gate System
The highway toll system consists of four parts: the toll road, the toll station, the toll center, and the toll clearing center. The toll station system aggregates all the collected information, matches the vehicle's route and mileage to calculate the fee each driver needs to pay, and sends it to the toll clearing center and the toll center of the operating company. Therefore, when the vehicle approaches the toll station bayonet position, the system needs to sense the specific location or weight of the vehicle through RFID reader, ground sensor coil, weighbridge and other equipment, and promptly activate the rest of the facilities to enter the ready working state, take in the license plate and other necessary information and send back to the toll center, while the lift rod will execute the up/down action in a very short period of time.
The bayonet system at toll stations involves a variety of serial terminal devices, but serial data cannot be directly delivered to the Ethernet network, so a serial to Ethernet product is necessary. 3onedata's NP5100 series provide 16/32 serial ports and can work stably in harsh outdoor environments. At the same time, they support socket communication under TCP/UDP protocols, which provides excellent serial to Ethernet capability and is ideal for such applications.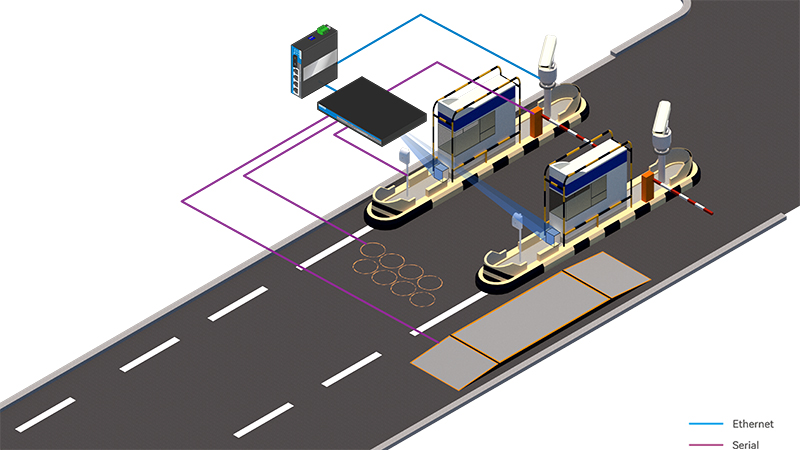 4.Water Treatment System
Water shortage, domestic sewage and industrial wastewater pollution to the environment is becoming increasingly serious, a good water quality monitoring system can assist in controlling the quality of water from the source, and obtain accurate information on water pollution at once. Also, slow analysis, complex operation, poor stability, and especially the possibility of secondary pollution, make the water quality monitoring methods used in the past far from meeting the needs of the development of environmental protection work, so the development of online monitoring system for water quality is very much needed.
Wastewater treatment should first use physical methods such as retention, sedimentation, oil separation, etc., and then use biological treatment methods such as activated sludge method and biofilm method to remove organic pollutants in colloidal and dissolved state in sewage, and finally use methods such as adsorption, ion exchange, coagulation and precipitation, oxidation, etc. to remove suspended matter, inorganic organic salts and other pollutants in sewage.
During the Process, a large number of sensors are required to continuously collect water quality data and send back to the data center. Since the communication interfaces of the sensors are mostly RS-232 or RS-485 serial interface, NP5100 series provides up to 32 serial ports, and support 3IN1 (RS-232/422/485) serial port type, and can connect a large number of serial data into the Ethernet network, making it the ideal choice for water treatment systems.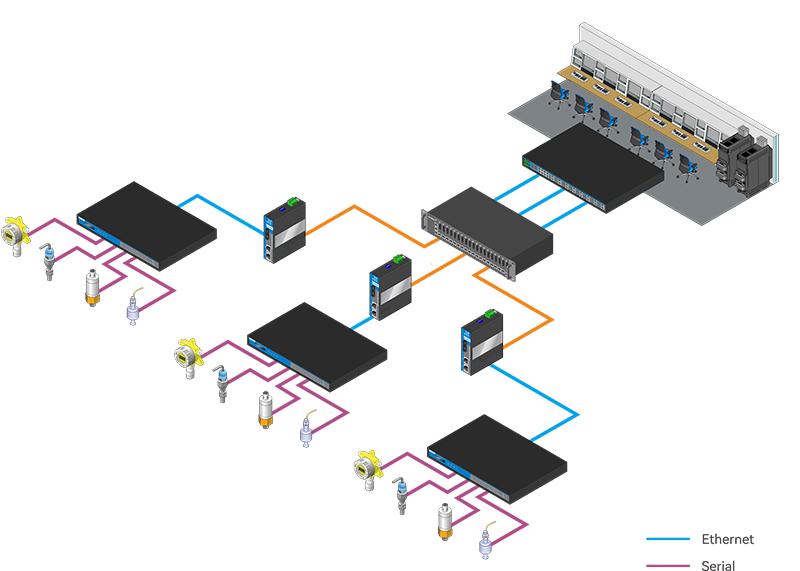 About 3onedata
Headquartered in Shenzhen, founded in 2001, 3onedata has been dedicated to IIoT for 21 years, with rich professional experience of providing industrial communication solution and service for partners and customers worldwide. In 2020, 3onedata became the first IIoT company to be listed on Shanghai Stock Exchange (SSE) STAR Market, a milestone for our sustainable growth and development.
Innovation, Value and Honor are 3onedata's core values, which guide our business strategy and operation. 3onedata attaches great importance to the overall development of the company, with continuous annual investments to ensure innovation in production, R&D and marketing in order to provide more competitive products in the market and support the success of our customers. Total Service System(TSS) is our unique operation model, providing the customer a feeling and experience of total service, which will lead to long-term effective development of 3onedata. From our persistent core values and competence in delivering great performance, we are confident in facing the uncertain future. 3onedata are looking forward to cooperating with you, for mutual benefits, and move forward together, on the way.
Website:
www.3onedata.com
LinkedIn:
www.linkedin.com/company/3onedata
Business Contact:
Mr.Frank Zhu
, E-mail:
ics@3onedata.com