Satisfying high bandwidth and fast and reliable network expansion are critical for improving operational efficiency and reducing operating costs for industrial applications.

3onedata's IES6300 series

switches provide 2.5G high-bandwidth uplink ports with high performance and enhanced reliability, enabling field engineers to easily connect various bandwidth-demanding devices and expand reliable networks.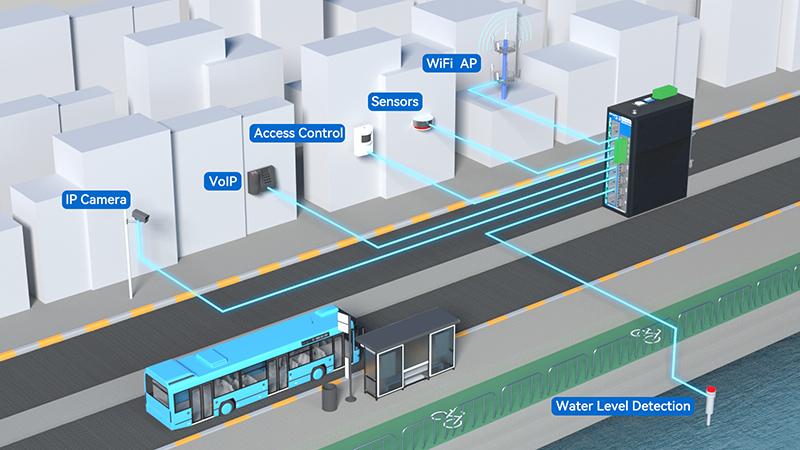 3onedata's IES6300 2.5G Switch Application
The IES6300 Series is a

managed layer 2 Ethernet switch

that deserves eight 10/100/1000Base-T(X) copper ports (PoE optional) plus two 100M/1G/2.5GBase-FX SFP slots which provide stable and reliable long-distance Ethernet transmission over optical fiber, making the switch ideal for upgrading an existing network to Gigabit speed or building a new full Gigabit backbone. The optional two 100/1000Base-FX SFP slots and two DI/DO ports help the switch meet the needs of diverse applications. The SFP-DDM (Digital Diagnostic Monitor) function greatly helps network administrator easily monitor the fiber links, such as optical output power, optical input power, temperature, laser bias current, and transceiver supply voltage.
Various Types of Interfaces Optional for Different Demands
The IES6300 series adopts an industrial-grade fanless design to ensure the stability and reliability of network in harsh outdoor environments of operating temperature from -40 to 75°C. With available DIN-Rail or wall mounting metal housing, the IES6300 Series is ideal for a variety of industrial applications, such as in intelligent transportation systems, smart manufacturing and power substations. The IES6300 Series also supports a variety of network protocols and industry standards, such as QoS, ACL, HTTPS, SSH, RADIUS, TACACS + and user privilege classification. Furthermore, it also adopts redundant Ethernet technologies such as SW-Ring and STP/RSTP/MSTP to increase the reliability of your system. In addition, the IEEE 1588 (PTP) function is optional, supporting MEF service delivery and packet timing solutions for IEEE 1588 and synchronous Ethernet, ideal for telecom and carrier Ethernet applications.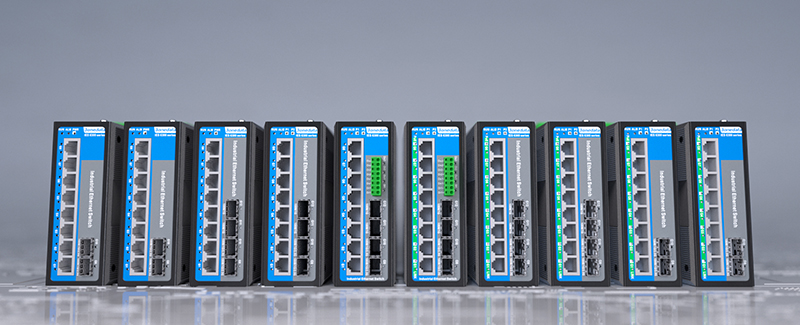 10 Models to Fulfill a Wide Variety of Your Industrial Automation Needs
The IES6300 Series offers five models with eight 100M/1GBaseT(X) 802.3af (PoE) and 802.3at (PoE+) compliant Ethernet PoE ports to connect high-bandwidth PoE devices. It adopts flexible PoE power allocation strategy, administrators can manually increase the power budget of high-priority ports while the total power remains the same. The built-in "PoE Schedule" function helps users enable or disable PoE power feeding for each PoE port during specified time intervals and it is a powerful function to help SMBs or enterprises save power and money.
PoE Models for Connecting High-bandwidth PoE Devices
Specification
a.Eight 10/100/1000Base-T(X) copper ports(PoE optional) that support automatic flow control, Full/Half Duplex Mode self-adaption and MDI/MDI-X auto-sensing
b.Two 100/1000Base-FX SFP slots plus two 1G/2.5GBase-FX SFP slots
c.Two DI/DO ports optional, the DI ports support dry contact input, the DO ports support relay-type output
d.One 8-pin RJ45 Console port, RS-232 standard (115200、8、N、1)
e.One relay alarm interface, 1A@30VDC or 0.3A@125VAC current load
f.Support both AC and DC power input:
1)AC Input (non-PoE model): one 100~240VAC power supply with built-in short-circuit protection and 3A over-current protection
2)DC Input (non-PoE model): one 100~240VDC power supply with built-in short-circuit protection and 3A over-current protection
3)DC Input (non-PoE model): two 12~48VDC power supplies with built-in short-circuit protection and 3A over-current protection
4)DC Input (PoE model): two 24VDC redundant power supplies with built-in reverse polarity protection and 12A over-current protection
5)DC Input (PoE model): two 48VDC redundant power supplies with built-in reverse polarity protection and 5A over-current protection
g.-40~75℃ wide operating temperature, 5%~95% wide operating humidity
h.IP40 metal housing with DIN-rail installation
Highlight
a.Enabled for dual stack support for both IPv4 and IPv6, make future network extension easy
b.Support IEEE 1588v2 (PTP, Precision Time Protocol)
c.Support layer 3 static routing, max 32 routing entries configurable
d.NAS(Network Access Server) provides security assurance for a wide range of services
e.DHCP server and DHCP client can be used to assign IP addresses with different policies
f.DHCP Snooping ensures DHCP client obtain an IP address from a legal DHCP server
g.DHCP relay function can realize IP address, gateway, DNS configuration cross network segment
h.Support input and output of I/O port, I/O port state alarm, achieve remote device control
i.Patented SW-Ring (recovery time < 20 ms @ 250 switches), STP/RSTP/MSTP and ERPS for network redundancy, avoid network storm
j.Adopt link aggregation technology to increase bandwidth, enhance the reliability of network communication, achieve the maximum utilization rate of bandwidth
k.SNMPv1/v2c/v3 for different levels of network management, RMON for efficient and flexible network monitoring
l.Port statistics for real time statistic of port flux
m.Static multicast to filter the filtration of multicast traffic and save bandwidth
n.IEEE 802.1Q VLAN can partition network, improve privacy between different subsystems and the stability of network
o.Port mirroring support Many-to-1, make data monitoring and online debugging easy
Application
1.Video Surveillance Application
The L2 industrial Ethernet switch IES6300 series have the PoE and gigabit capability. They are designed for critical PoE applications such as WiMAX systems, wireless APs and even real time video surveillance.
As shown in the figure, the IES6300 PoE series switches are ideal for video surveillance applications. The PoE port provides a maximum power of 30W within a single port (240W for the whole switch), which can meet the power supply requirements of high-power devices such as PTZ cameras. In addition, the IES6300 series switches have 8 gigabit copper ports, and a single switch can support the real-time monitoring traffic transmission of 8 4~6Mbps HD cameras. 4 gigabit SFP ports provide high speed uplink, it is a good choice for cascading between switches or connecting to a backbone switch. The Digital Diagnostic Monitoring (DDM) is supported for monitoring of fiber links. Hence, Network administrators can easily judge the working status of optical fibers. What's more, IES6300 series switches support 3onedata patented ring technology, the SW-Ring supports single ring, coupling ring, chain, Dual-homing, automatic recovery time of network failure < 20ms, which can full fit the complex and changeable networking requirements.
As for the hardware requirements, the IES6300 series supports the protection level of IP40, the EMC supports the level 3B, and the DIN-Rail mounting design can run stably even in industrial cabinets with harsh outdoor environments.
2.PTP application - Intelligent Assembly System
Precision Time Protocol (PTP) is an Ethernet or IP-based protocol for synchronizing time clocks on a collection of network devices using a Master/Slave distribution mechanism.
PTP is a network-based time synchronization standard, but instead of millisecond-level synchronization, PTP networks aim to achieve nanosecond or even picosecond-level Synchronization. PTP time stamping is so accurate because it uses hardware time stamping instead of software, and PTP equipment is dedicated to one specialized purpose: keeping devices synchronized. For that reason alone, PTP networks have much sharper time resolutions, and unlike NTP, PTP devices will actually time stamp the amount of time that synchronization messages spend in each device, which accounts for device latency. Hence, it can be easily adopted by applications in telecommunications, power plants, industrial automation, test and measurement, robotic control, etc.
In an intelligent assembly system, robots along the conveyor belt often need to obtain accurate timing together with drive controllers and distributed I/O throughout the production line. IES6300 series switches have excellent performance in PTP. In the actual process, the switch performs a NTP and network time synchronization after startup. After the time synchronization is successful, the IES6300 performs time synchronization for the specified multiple network ports in the PTP master mode. In the time-based control network, the system knows exactly when the input is sampled, and the output device can arrange the output to drive at a predetermined time. To achieve faster, higher precision production goals.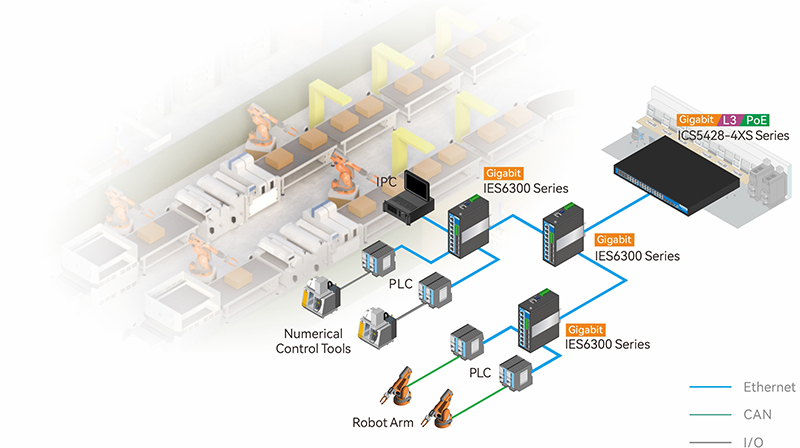 For more information about the IES6300 Series, please visit the product page.
About 3onedata
Based in Shenzhen and founded in 2001, 3onedata has been dedicated in IIoT industry for 22 years and has accumulated rich and professional experience of providing industrial communication solution and service for worldwide partners and customers. In 2020, 3onedata successfully became the 1st public company in IIoT of SSE STAR Market of China, which has a significant meaning for company's sustainable growth and development. Innovation, Value and Honor are 3onedata's core values, which guide our business strategy and operation actions. 3onedata attaches much importance to company's comprehensive development by stable annual investment so as to assure the innovation of production, R&D and marketing so as to provide more market competitive products and support our customers' success.
Website: www.3onedata.com
LinkedIn: www.linkedin.com/company/3onedata
Business Contact: Mr. Tigger Lei, E-mail:

ics@3onedata.com