As we can see there are a lot of field devices that using different protocols in industrial applications, operators have to use

industrial protocol gateway

to accomplish protocol conversions to keep networks running smoothly and minimize cost by keep using their old devices.

3onedata

's

Modbus gateways

provide a simple and cost-effective solution to connect new or existing devices running the Modbus serial protocol (Modbus/ASCII or Modbus/RTU) to an Ethernet network.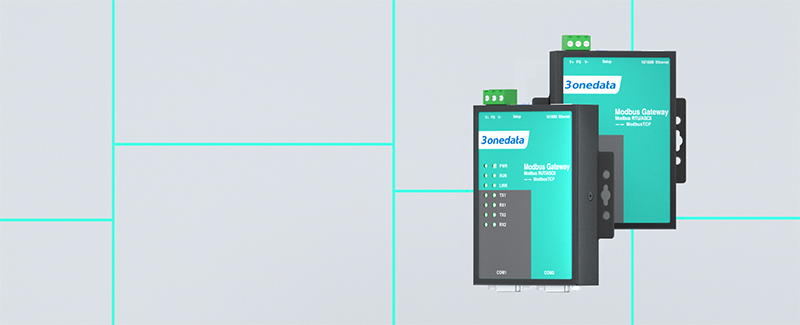 3onedata's Modbus Gateways
Today we are going to introduce two models of Modbus gateways from 3onedata: GW1101 series, a 1-port RS-232/485/422 or RS-485/422 to Ethernet Modbus gateway, and GW1102 series, a 2-port RS-232/485/422 or RS-485/422 to Ethernet Modbus gateway. Fully compliant with almost all Modbus network, these two series of Modbus gateways allow operators to establish communications with various of new or existing RTU/ASCII and TCP serial devices across an Ethernet network, improving production efficiency and reduce operational costs by enabling the devices to communicate between protocols.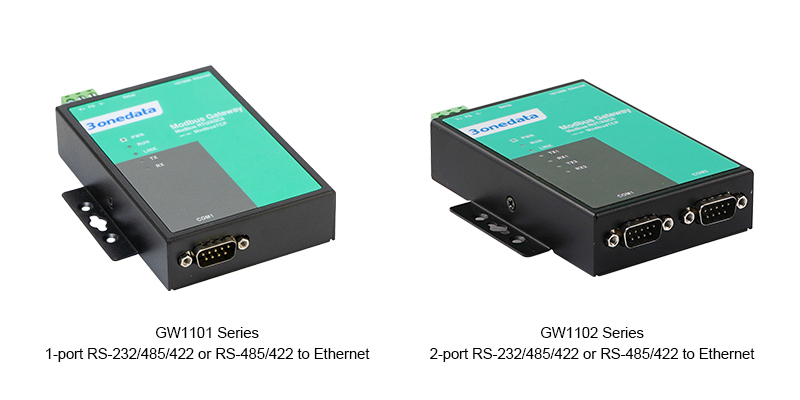 3onedata's Modbus Gateways GW1101 Series and GW1102 Series
Equipped with the Intelligent Command Learning function, 3onedata's Modbus gateways can significantly reduce polling time and improve system performance. With Learn-Remember-Polling-Store-Postback processes, the gateway can learn and remember the Modbus commands it receives, once a command has been learned, the gateway will act as though it were in agent mode, and actively send Modbus requests to the relevant Modbus slave devices. Since the data is saved in a different memory space that can be accessed by the SCADA system, the SCADA system can retrieve Modbus response data directly from the gateway's memory, instead of waiting for the data to pass through the Modbus devices.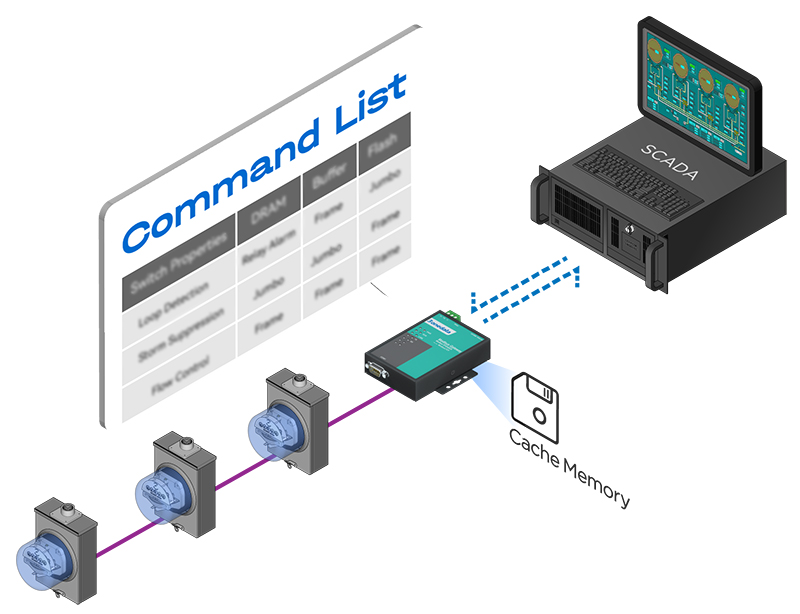 Intelligent Command Learning Function
The Auto-Device Routing function helps engineers finish the configuration easy and fast. In the Auto-Device Routing mode, the gateway will automatically detect the connection type, the ID and destination address of the modbus slave, and establish a routing forwarding list, therefore, time and costs are saved significantly because engineers don't need to manually create the client ID routing table anymore. Moreover, it eliminates the effort needed to double-check the actual connections at field sites. This technology also does not require extra time or effort to refer to a historical mapping table when adding or removing Modbus devices.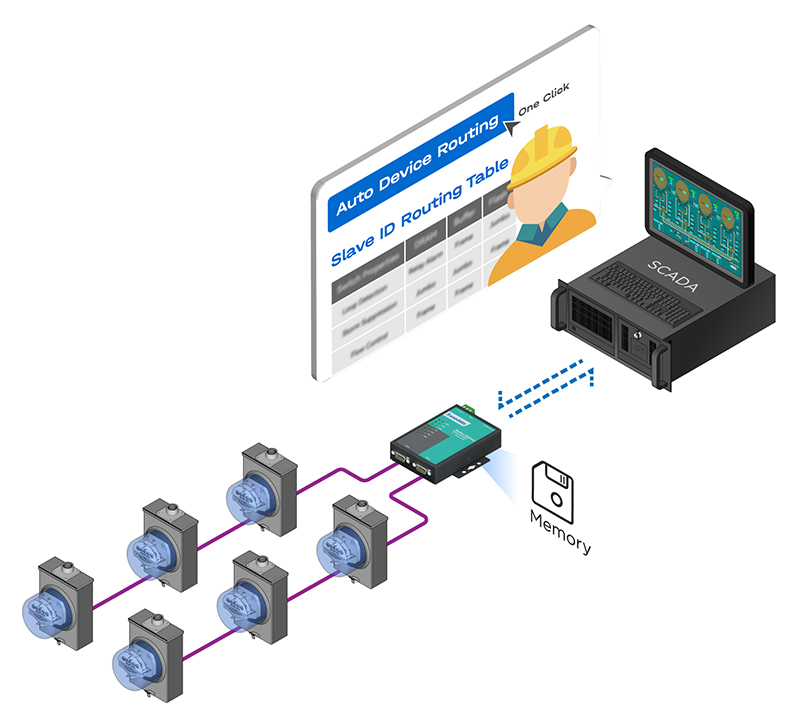 Auto-Device Routing Function
Specification
A.Support 1/2 RS-422/485 or RS232/422/485 high-speed serial port, 110bps-115200bps line speed and non-blocking communication
B.Support 1 10/100Base-T(X) RJ45 copper port, automatic flow control, auto MDI/MDI-X Autotunning
C.RS-232 Signal: RXD, TXD, DTR, GND, DSR, RTS, CTS
D.RS-485 Signal: D+, D-, GND
E.RS-422 Signal: T+, T-, GND, R+, R-
F.Data Bits: 7, 8
G.Parity: None, Even, Odd, Space, Mark
H.Stop Bits: 1, 2
I.Interface form: terminal block for RS-422/485, DB9 for 3IN1
J.Multiple operating modes: RTU master, RTU slave, ASCII master, ASCII slave
K.Single power supply, 12~48VDC input with reverse polarity protection
L.-40~75℃ wide operating temperature, 5%~95% operating humidity
Highlight
a.Support RTS/CTS, DTR/DSR and XON/XOFF flow control
b.Support intelligent learning mode,it is more efficient for the Modbus master to access the Modbus slave and get a reply
c.Support up to 256 Modbus TCP client (master) accesses and connect up to 128 Modbus TCP server (slave) devices.
d.Support virtual and real ID mapping to achieve flexible access between Master and Slave devices
e.Support Auto-device routing for easier Modbus slave ID configuration
f.Support IP address and MAC address filtering, which can achieve accurate access control easily
g.Support serial port status and parameters monitoring, ensuring the communication status is easy to read
h.Support multiple configuration forms and access controls like Windows configuration tool, TELNET, SSHD and WEB
i.File management is convenient for the device rapid configuration and online upgrading
j.SSHD and HTTPS can guarantee the access security of data
k.Conduct network diagnosis and troubleshooting via Ping and Traceroute
l.Support multiple alarm methods, including e-mail alarm, log alarm and SNMP Trap alarm
Application
1.Multi Modbus TCP/IP Master to RTU/ASCII Slaves
The GW1101/1102 series can operate as a bridge between the multiple Modbus TCP master devices, like computer and PLC, and the RTU/ASCII slave devices in a Modbus TCP/IP networking environment to control the RTU/ASCII slave equipment via the multi-TCP/IP master equipment.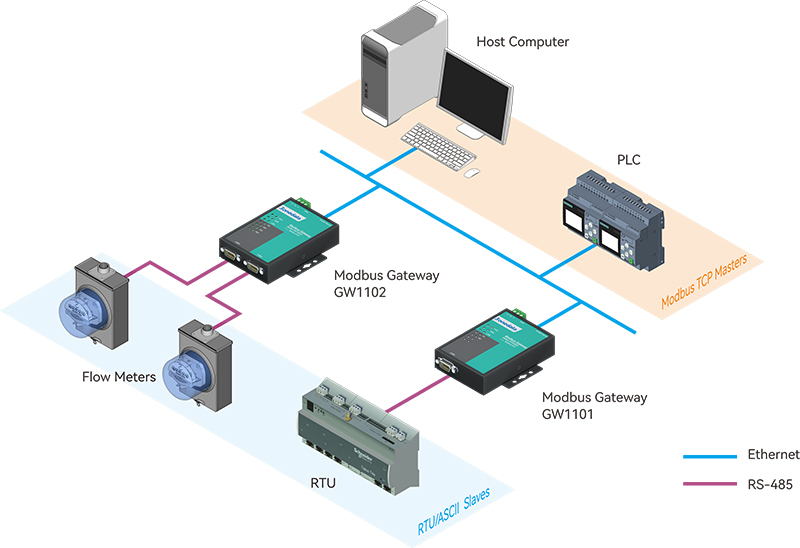 2.RTU/ASCII Master to Multi Modbus TCP/IP Slaves
The GW1101/1102 can act as a bridge between the RTU/ASCII master devices and the multiple TCP/IP slave devices in a Modbus TCP/IP networking environment to control multiple TCP/IP slave devices via the RTU/ASCII master devices.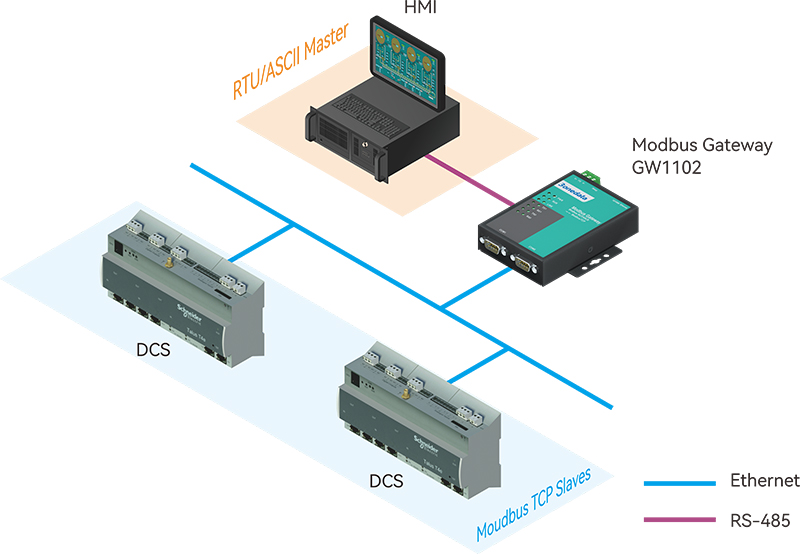 For more information about the Modbus solutions, please visit the Product Page.
About 3onedata
Headquartered in Shenzhen, founded in 2001, 3onedata has been dedicated to IIoT for 21 years, with rich professional experience of providing industrial communication solution and service for partners and customers worldwide. In 2020, 3onedata became the first IIoT company to be listed on Shanghai Stock Exchange (SSE) STAR Market, a milestone for our sustainable growth and development.
Innovation, Value and Honor are 3onedata's core values, which guide our business strategy and operation. 3onedata attaches great importance to the overall development of the company, with continuous annual investments to ensure innovation in production, R&D and marketing in order to provide more competitive products in the market and support the success of our customers. Total Service System(TSS) is our unique operation model, providing the customer a feeling and experience of total service, which will lead to long-term effective development of 3onedata. From our persistent core values and competence in delivering great performance, we are confident in facing the uncertain future. 3onedata are looking forward to cooperating with you, for mutual benefits, and move forward together, on the way.

Website: www.3onedata.com
LinkedIn: www.linkedin.com/company/3onedata
Business Contact: Mr. Tigger Lei, E-mail: ics@3onedata.com