To provide an economical solution for plenty of simple industrial Ethernet connections, 3onedata has launched two models of entry-level unmanaged switches, the IES2005 with five 10/100M copper ports, and the IES2008 with eight 10/100M copper ports. Both feature high EMC resistance and an IP40-rated aluminum housing to withstand harsh environments, extreme operating temperatures (-40° C to +75° C), vibrations and shocks. With extremely compact size, these two switches can perfectly fit into crowded control cabinets and machines. The DIN-rail mounting capability make them suitable for many industrial Ethernet applications.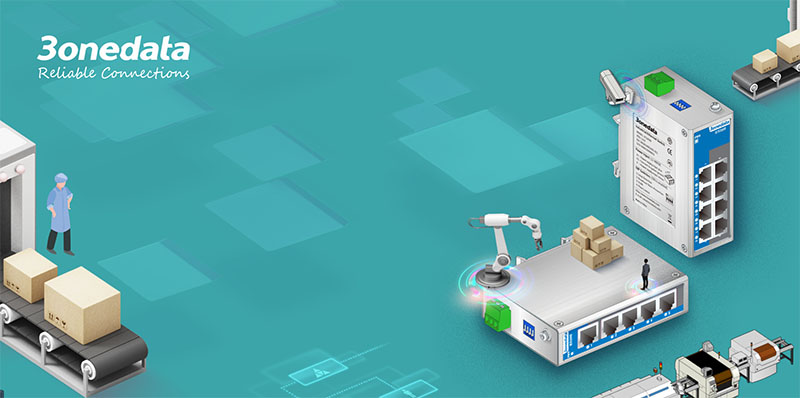 3onedata's Entry-level Unmanaged Switches IES2005 & IES2008
Featuring Loop Detection, Storm Suppression, Flow Control and Port Isolation by DIP switch, these two unmanaged industrial Ethernet switches allow field-site engineers easily expanding reliable networks with plug-and-play simplicity. The Loop Detection helps you identify loops and shutdown the port encountered switching loops promptly to avoid generating broadcast storms. The Storm Suppression is given to automatically limit port flux, optimize bandwidth resources for ports, and ensure stable data transmission. The Flow Control function helps avoid the loss of critical data by adjusting sending rate and receiving rate. Moreover, network operators can flip the DIP switch on the top panel to enable Port Isolation for downlink ports.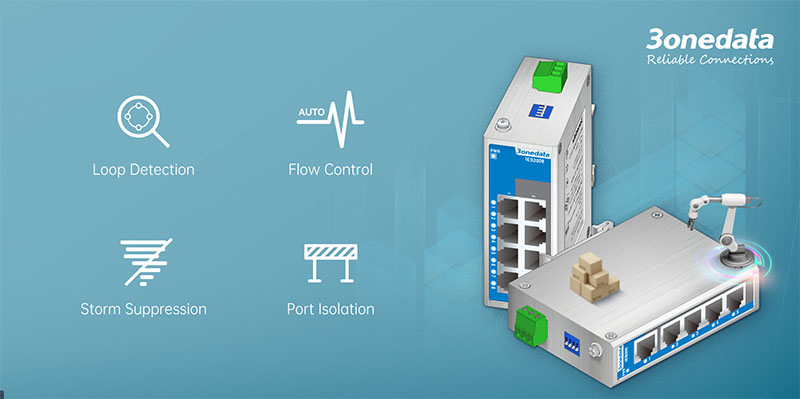 High Performance of 3onedata's IES2005 & IES2008
To provide enhanced operational performance, the two switches undergo a 100% burn-in test to ensure that they fulfill the special needs of industrial automation control applications.
Specifications
A. 5/8 10/100Base-T(X) copper ports featuring automatic flow control, full/half-duplex, MDI/MDIX auto-sensing
B. DIN-rail mounting ability and IP40-rated aluminum housing
C. Extremely compact size for easy placement in control cabinets and machines
D. -40 to 75°C operating temperature range, 5%~95% relative humidity range
E. Support both AC and DC power input:
a. AC Input: one 24VAC power supply with built-in short-circuit protection and 3A over-current protection
b. DC Input: one 12~48VDC power supply with built-in short-circuit protection and 3A over-current protection
Click the model names and visit product pages for more information and technical specifications of the IES2005 and IES2008.
Applications
1. Factory Intelligent Assembly System
The IES2005 and IES2008 series switches have a compact size, and at the same time they provide 5/8 Fast Ethernet ports, which are ideal for intelligent control cabinets in factory assembly workshops. As the "Ethernet traffic hub" in the industrial control cabinet, IES2005 and IES2008 can perfectly interconnect PLC, servo controller, industrial computer, HMI, inverter and other equipment and efficiently forward the communication data between each other. The terminal performs assembly actions more smoothly, so that the processing of the production line can be improved.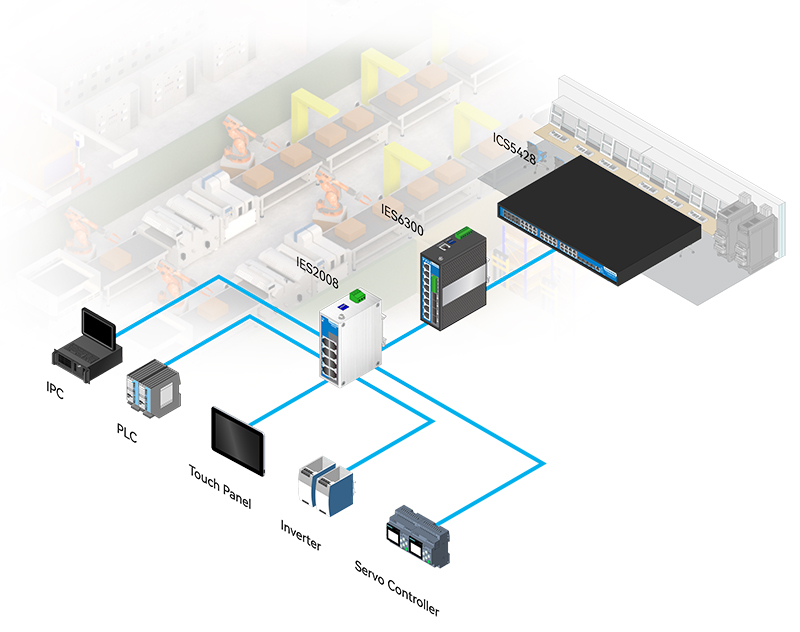 2. Machine Intelligent Sorting System
With the continuous penetration of industrial communication in concepts such as smart agriculture and smart production, more and more large-scale agricultural production machines are gradually becoming unmanned and intelligent. For intelligent sorting machines for vegetables, melons and fruits, industrial Ethernet switches with small size and small number of ports like IES2005 and IES2008 are often important "transportation hubs" for various execution components in the sorting system, because they can connect to central processing units, Core equipment such as HMI, high-speed industrial cameras, and sorting processing units.
The vegetables and fruits are transported by the conveyor belt through the capture field of the industrial camera, and the image information formed by the camera will be transmitted to the central processing unit. After a quick analysis and processing, a key control message is distributed to the sorting control unit, which controls the scheduling of the conveyor belts. At the same time, the HMI can also display relevant information such as the working status and sorting value of the entire machine. The entire sorting process is completely run by the machine efficiently and autonomously, which improves sorting efficiency and also helps companies save labor costs.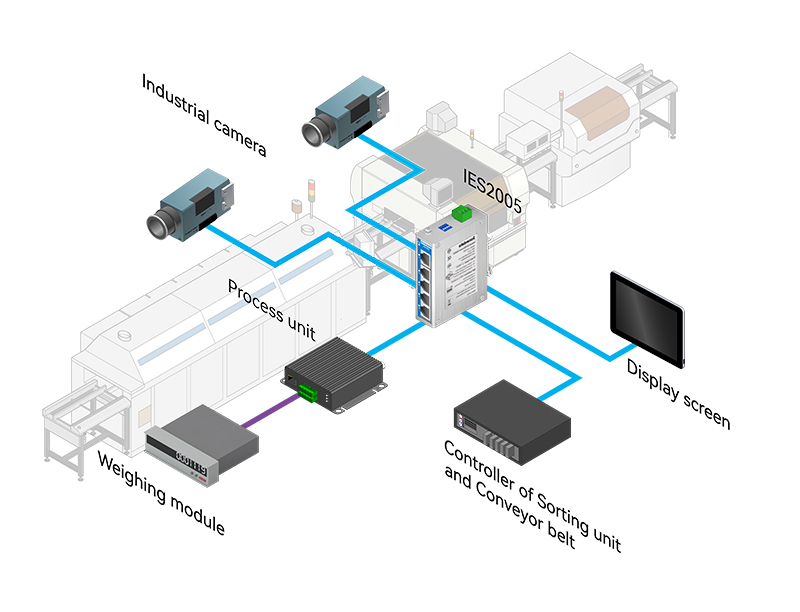 About 3onedata
Headquartered in Shenzhen, founded in 2001, 3onedata has been dedicated to IIoT for 21 years, with rich professional experience of providing industrial communication solution and service for partners and customers worldwide. In 2020, 3onedata became the first IIoT company to be listed on Shanghai Stock Exchange (SSE) STAR Market, a milestone for our sustainable growth and development.
Innovation, Value and Honor are 3onedata's core values, which guide our business strategy and operation. 3onedata attaches great importance to the overall development of the company, with continuous annual investments to ensure innovation in production, R&D and marketing in order to provide more competitive products in the market and support the success of our customers. Total Service System(TSS) is our unique operation model, providing the customer a feeling and experience of total service, which will lead to long-term effective development of 3onedata. From our persistent core values and competence in delivering great performance, we are confident in facing the uncertain future. 3onedata are looking forward to cooperating with you, for mutual benefits, and move forward together, on the way.
Website:
https://www.3onedata.com
LinkedIn:
https://www.linkedin.com/company/3onedata
Business Contact:

Mr. Tigger Lei, E-mail: ics@3onedata.com