With the development of Industry 4.0, the requirement of data transmission continues to grow. To meet the requirement , 3onedata launches a full gigabit managed industrial Ethernet switch IES7112G-4GS, it can help customers to build a more reliable communication network.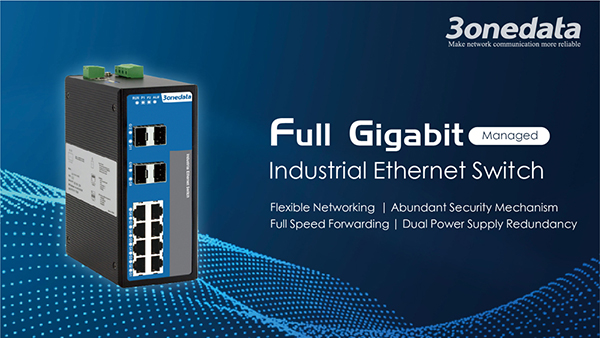 IES7112G-4GS
The IES7112G-4GS provides eight 10/100/1000Base-TX Ethernet ports and four 1000Base-FX fiber ports (SFP slot), has access control, network diagnosis, online update and other management functions, and accepts multiple access modes such as CLI, WEB and Telnet, completely meeting the demands of different industrial fields.
Full Gigabit Managed Industrial Ethernet Switch Features
1. Dual power supply redundancy function, the spare power supply will start instantly in a failure, and it is reverse polarity protected.
2. Integrates 8k Mac and 24G Gbps, supports full wire-speed forwarding, fully to satisfy all kind of network demands.
3. Industrial ethernet switch supports 802.1Q VLAN, QoS, IGMP static multicast functions, PAGP and other protocols. The software system interface is simple and it is easy to use.
4. With SW-Ring technology, it supports single ring networking mode, couple ring networking mode and other networking modes, and it can recover fast in a failure.
5. Industrial grade design, it is built with corrugated metal shell, IP40 protection and din-rail mounting design, that can absolutely adapt harsh environments.
6. The IES7112G-4GS has powerful multiple traffic supporting function, it's very safe that can effectively prevent illegal invasion.
Full Gigabit Managed Industrial Ethernet Switch Typical Application Cases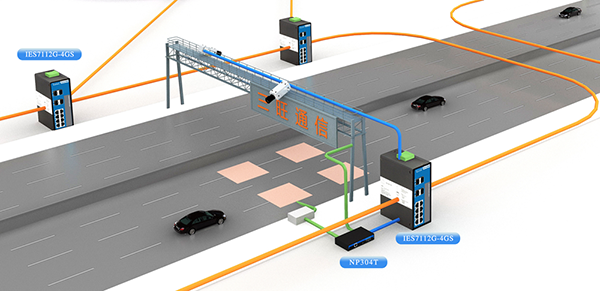 Solution's Advantages
1. SW-Ring optical fiber ring network topology, can realize network redundancy with less wiring construction.
2. Full gigabit & high bandwidth, guarantee smooth playback of videos.
3. Industrial grade 4 standard design, adapt to harsh environment.
4. A lot of network management functions, incorporate the devices along the expressway into the same network.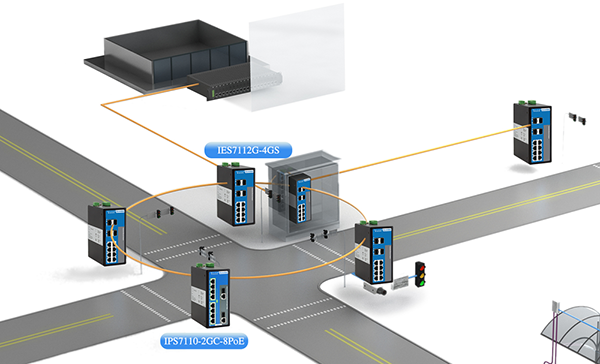 High Definition Electronic Police
Solution's Advantages
1. Use SW-Ring ring network topology and star topology structure, set up a reliable, real-time and stable full industrial ethernet switch gigabit network.
2. Adapt industrial ethernet PoE switch power supply mode to simplify wiring and avoid devices burning down.
3. Industrial grade 4 standard design, adapt to the harsh environment.
4. Support many network management functions, such as VLAN, IGMP Snooping and traffic control, ensure efficient video transmission.