Shzhen, China - September 8, 2023 - 3onedata, a leader in innovative IoT and communication solutions, is excited to extend a warm invitation to all tech enthusiasts, industry experts, and business leaders to visit our booth at GITEX Global 2023, the world's largest technology event. This year, GITEX promises to be bigger and better than ever, and 3onedata will be at the forefront of cutting-edge smart solutions.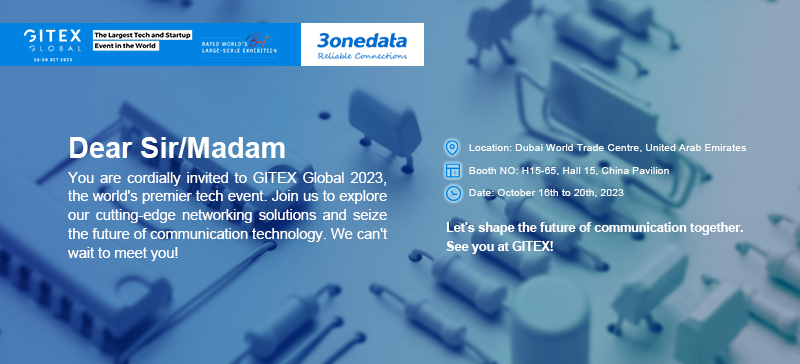 Event: GITEX Global 2023
Date: October 16th to 20th, 2023
Location: Dubai World Trade Centre, United Arab Emirates
Booth: H15-65, Hall 15, China Pavilion

At 3onedata's booth, you will have the opportunity to explore our latest innovations in smart technology, including:

Integrated Smart City Management Solution: Witness the power of our unified IoT platform, designed to manage edge computing gateways, smart lighting, environmental monitoring, cameras, information screens, and smart locks. Our solution provides dynamic management of access devices, robust security with multi-layer encryption, and real-time monitoring for urban event management.

Machine Vision System: Experience the future of quality control and automation with our cutting-edge Machine Vision System, featuring the Jetson AGX Xavier series, high-speed machine vision, and robust connectivity solutions.

Wind-Solar Hybrid Power System: Learn about our sustainable energy innovations, including wind-solar hybrid power solutions with advanced PCB coating for durability, SCADA integration, and self-recovery capabilities for uninterrupted performance.

Join us at GITEX Global 2023 to explore these remarkable solutions and witness firsthand how 3onedata is shaping the future of technology. Our experts will be available to discuss your specific needs and demonstrate how our products can benefit your organization.
As a company dedicated to innovation, 3onedata looks forward to collaborating with you for mutual growth and success. Save the date and be part of the technological revolution at GITEX Global 2023.
We anticipate your presence at GITEX Global 2023, where we will be charting the course to a smarter, more connected world.
About 3onedata
Headquartered in Shenzhen, founded in 2001, 3onedata has been dedicated to IIoT for 22 years, with rich professional experience of providing industrial communication solution and service for partners and customers worldwide. In 2020, 3onedata became the first IIoT company to be listed on Shanghai Stock Exchange (SSE) STAR Market, a milestone for our sustainable growth and development.
Innovation, Value and Honor are 3onedata's core values, which guide our business strategy and operation. 3onedata attaches great importance to the overall development of the company, with continuous annual investments to ensure innovation in production, R&D and marketing in order to provide more competitive products in the market and support the success of our customers!
Website:
www.3onedata.com
LinedIn: 3onedata
Business Contact: Mr. Colin Cong, E-mail: marketing@3onedata.com