Shanghai, China - September 1, 2023 - 3onedata, a trailblazer in industrial communication solutions, is excited to announce its participation in the highly anticipated 23rd China International Industry Fair (CIIF).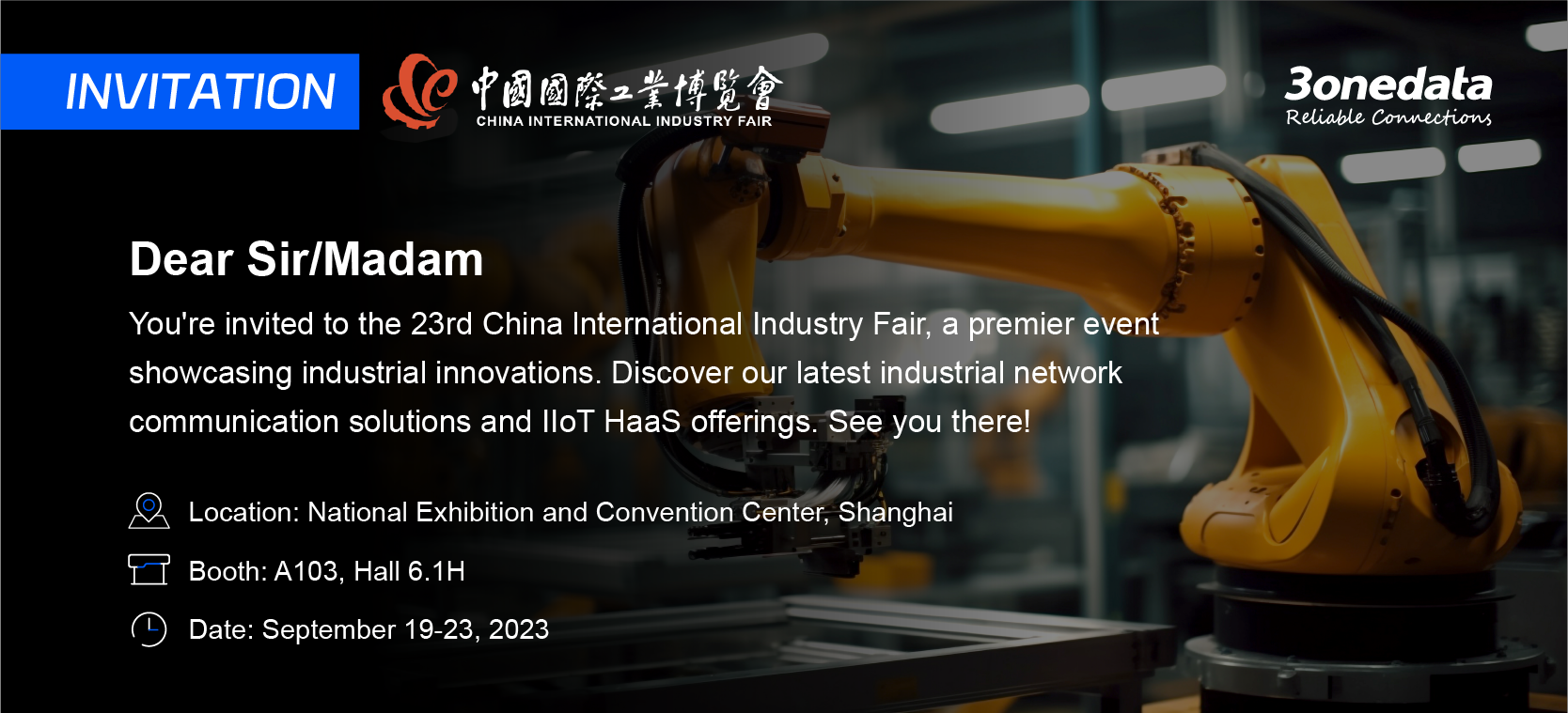 The event is scheduled to take place from September 19th to 23rd, 2023, at the esteemed National Exhibition and Convention Center in Shanghai.
CIIF 2023 - Pioneering Industrial Solutions for a Dynamic Future
With a legacy of over two decades in the Industrial Internet of Things (IIoT) domain, 3onedata is prepared to unveil its latest strides in industrial network communication products and innovative IIoT Hardware as a Service (HaaS) solutions. Renowned for its commitment to innovation and excellence, 3onedata continues to set industry standards by offering bespoke and cutting-edge solutions to partners and clients worldwide.
Booth A103, Hall 6.1H: Where Vision Meets Innovation
Attendees of CIIF 2023 are cordially invited to engage with 3onedata at Booth A103, Hall 6.1H, where the company will showcase a spectrum of state-of-the-art offerings. From industrial Ethernet switches to comprehensive IIoT solutions, 3onedata's booth promises to be a convergence of vision and innovation, offering exceptional networking prospects.
A Legacy of Excellence in Industrial Communication
Established in 2001, 3onedata's steadfast commitment to delivering excellence in industrial communication solutions has cemented its position as an industry leader. A significant highlight was achieved in 2020 when the company became the pioneer IIoT enterprise to be listed on the Shanghai Stock Exchange STAR Market. This milestone attests to 3onedata's unwavering dedication to sustainable growth and perpetual advancement.
Event Details:
· Event: 23rd China International Industry Fair (CIIF) 2023
· Date: September 19-23, 2023
· Location: National Exhibition and Convention Center, Shanghai
· Booth: A103, Hall 6.1H
3onedata extends a warm invitation to partners, clients, and industry professionals to participate, engage in insightful dialogues, and explore the future of industrial solutions.
About 3onedata
Headquartered in Shenzhen, founded in 2001, 3onedata has been dedicated to IIoT for 22 years, with rich professional experience of providing industrial communication solution and service for partners and customers worldwide. In 2020, 3onedata became the first IIoT company to be listed on Shanghai Stock Exchange (SSE) STAR Market, a milestone for our sustainable growth and development.
Innovation, Value and Honor are 3onedata's core values, which guide our business strategy and operation. 3onedata attaches great importance to the overall development of the company, with continuous annual investments to ensure innovation in production, R&D and marketing in order to provide more competitive products in the market and support the success of our customers!
Website:
www.3onedata.com
LinedIn: 3onedata
Business Contact: Mr. Colin Cong, E-mail: marketing@3onedata.com