Shenzhen, Mar, 29th, 2023 - 3onedata, a leading supplier of industrial communication solutions, today announced to participate in Japan IT Week Spring, the largest IT exhibition in Japan at Apr. 5-7th in Tokyo. 3onedata's booth no. is E46-29.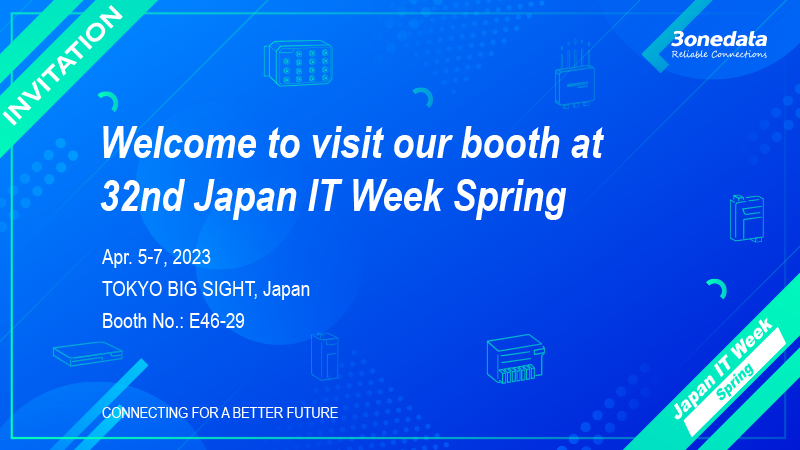 At the fair, 3onedata will bring its EMS (Electronic Manufacturing Service) and showcase it's latest solution for intelligent manufacturing, transportation, energy and security. The intelligent manufacturing solution allows system administrators to operate and maintain factory devices and monitor operations without visiting field sites and helps manufacturers to improve efficiency and flexibility. The transportation solution is to enable safe & efficient railway and expressway infrastructure. The energy solution is to make energy smarter and more efficient, realize maximum conversion of power. The security solution helps reduce the impact of threats and improve traffic efficiency. For more information, please click and visit 3onedata's website.
About 3onedata
Headquartered in Shenzhen, founded in 2001, 3onedata has been dedicated to IIoT for 22 years, with rich professional experience of providing industrial communication solution and service for partners and customers worldwide. In 2020, 3onedata became the first IIoT company to be listed on Shanghai Stock Exchange (SSE) STAR Market, a milestone for our sustainable growth and development.
Innovation, Value and Honor are 3onedata's core values, which guide our business strategy and operation. 3onedata attaches great importance to the overall development of the company, with continuous annual investments to ensure innovation in production, R&D and marketing in order to provide more competitive products in the market and support the success of our customers. Total Service System(TSS) is our unique operation model, providing the customer a feeling and experience of total service, which will lead to long-term effective development of 3onedata. From our persistent core values and competence in delivering great performance, we are confident in facing the uncertain future. 3onedata are looking forward to cooperating with you, for mutual benefits, and move forward together, on the way.
Website:
www.3onedata.com
LinkedIn:
3onedata
Business Contact:

Mr. Colin Cong,

E-mail:

marketing@3onedata.com