Shenzhen, June, 8th, 2023 - 3onedata, a leading global supplier of industrial communication solutions, today announces to exhibit at the 16th International Exhibition on Electrical Technology & Equipment (Vietnam ETE 2023), the largest exhibition on electrical equipment and renewable energy in Vietnam. This exhibition will be held during July 19th-21st, 2023 at Saigon Exhibition & Convention Center, Ho Chi Minh City, 3onedata's booth no. is S10-11.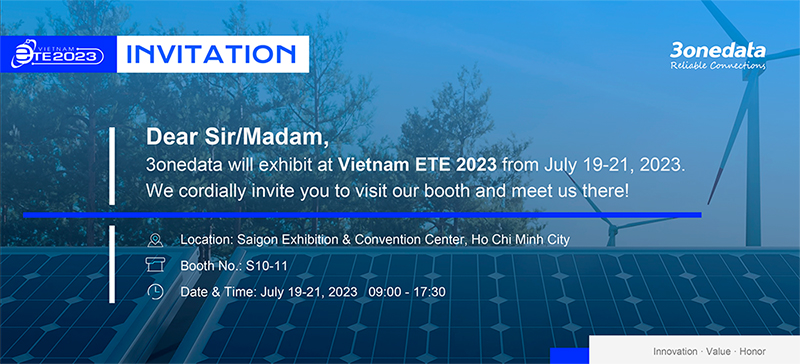 At this fair, 3onedata is going to present its latest networking solutions of renewable energy generation, energy storage, distribution automation and intelligent substation. Enabling communication for energy applications requires reliable performance to endure harsh operating conditions. Therefore, 3onedata's full range of products, including industrial Ethernet switch, PoE switch, wireless AP, 5G router, serial device server, and media converter, feature industrial-grade design and high EMC resistance, compliance with IEC 61850-3/IEEE 1613, and a -40 to 75°C wide operating temperature range to ensure reliable communications and operations.
"Vietnam is one of Asia's fastest growing energy markets, the government expects power consumption to grow 10-12 percent annually through 2030" said by Mr. Colin, the international sales director at 3onedata, "3onedata provides reliable networking solutions for a variety of applications in energy industry, and has served many domestic national projects, I believe we can have a positive impact for Vietnam to meet the growing demand and promote a greener, more stable power system!"
For more excellent product and solution experience, please visit 3onedata's booth.
Date: July 19th-21st, 2023 09:00 - 17:30
Location: Saigon Exhibition & Convention Center, Ho Chi Minh City
Booth No.: S10-11
About 3onedata
Headquartered in Shenzhen, founded in 2001, 3onedata has been dedicated to IIoT for 22 years, with rich professional experience of providing industrial communication solution and service for partners and customers worldwide. In 2020, 3onedata became the first IIoT company to be listed on Shanghai Stock Exchange (SSE) STAR Market, a milestone for our sustainable growth and development.
Innovation, Value and Honor are 3onedata's core values, which guide our business strategy and operation. 3onedata attaches great importance to the overall development of the company, with continuous annual investments to ensure innovation in production, R&D and marketing in order to provide more competitive products in the market and support the success of our customers!
Website:
www.3onedata.com
LinedIn: 3onedata
Business Contact: Mr. Colin Cong, E-mail: marketing@3onedata.com