Shenzhen, China - November 1, 2023

Join us for an enlightening online seminar, "Empowering Green Energy Technology Trend and Solution," hosted by 3onedata, a leader in industrial communication solutions.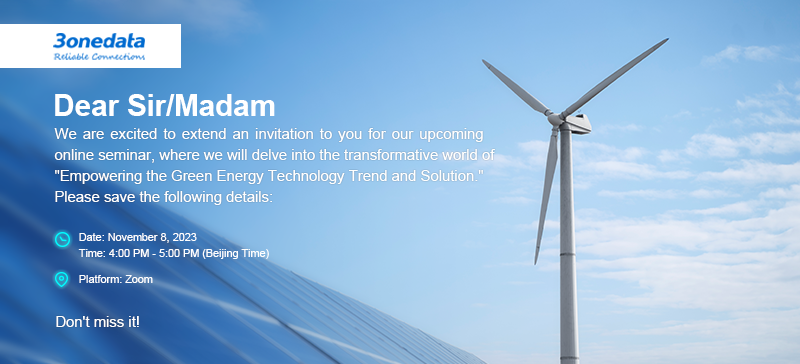 Date & Time: November 8, 2023, 4:00 PM Beijing Time

In today's digital era, IoT technology is reshaping energy management, revolutionizing how we monitor, control, and optimize energy consumption. IoT devices enable real-time data collection, fostering informed decisions about energy efficiency and sustainability.

Discover how IoT integration enhances resource utilization, reduces greenhouse gas emissions, lowers costs, and promotes a greener, sustainable future. Our guest speaker, SAM, will lead a discussion on these transformative trends.

Seminar Details:

Date & Time: November 8, 2023, 4:00 PM Beijing Time
Platform: Zoom
To attend this seminar, register in advance here.

Learn how 3onedata's 22 years of expertise in IIoT, innovation, and sustainability have shaped the industry.

About 3onedata
Headquartered in Shenzhen, founded in 2001, 3onedata has been dedicated to IIoT for 22 years, with rich professional experience of providing industrial communication solution and service for partners and customers worldwide. In 2020, 3onedata became the first IIoT company to be listed on Shanghai Stock Exchange (SSE) STAR Market, a milestone for our sustainable growth and development.
Innovation, Value and Honor are 3onedata's core values, which guide our business strategy and operation. 3onedata attaches great importance to the overall development of the company, with continuous annual investments to ensure innovation in production, R&D and marketing in order to provide more competitive products in the market and support the success of our customers. Total Service System(TSS) is our unique operation model, providing the customer a feeling and experience of total service, which will lead to long-term effective development of 3onedata. From our persistent core values and competence in delivering great performance, we are confident in facing the uncertain future. 3onedata are looking forward to cooperating with you, for mutual benefits, and move forward together, on the way.
Website:

www.3onedata.com
LinkedIn:

3onedata
Business Contact: Mr. Colin Cong, E-mail: marketing@3onedata.com