The IES2105 from 3onedata is a series of 5-port unmanaged industrial Ethernet switches that equipped with extremely compact design to fit into crowded control cabinets and machines. It's also rated to provide IP40-level protection, which means that the Ethernet switch will not be affected by tiny dust particles, dirt, water, humidity, or vibration in most industrial environments. In addition, the IES2105 is designed to operate reliably in a temperature range of -40 to 75℃.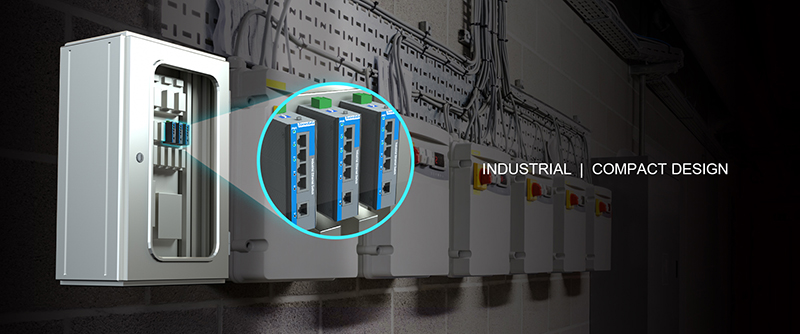 IEEE 802.3af/at, PoE+ Standards
There are two models of IES2105 series equipped with four PoE+ ports to simplify the whole network deployment, provide a simpler way to supervise and manage the switch, and create significant savings on installation and maintenance costs and time.
Jumbo Frame Improves Data Transmission Efficiency
In Ethernet networking, jumbo frames are Ethernet frames with more than 1500 bytes of payload, the limit set by the IEEE 802.3 standard. Using jumbo frames can reduce network overhead and to reduce CPU utilization. The IES2105 series unmanaged switches support jumbo frame to improve data transmission efficiency.
Ethernet Flow Control for Stable Operation of Network
Ethernet flow control is a mechanism for temporarily stopping the transmission of data on Ethernet networks. The goal of this mechanism is to avoid packet loss in the presence of network congestion. In half-duplex transmission mode, back pressure is used for flow control by sending a jamming signal to the source causes the source to slow down the sending speed. In full-duplex transmission mode, flow control is achieved via the pause operation and the transmission of control frames. The IES2105 series unmanaged switches can be easily enabled with a dip switch for automatic flow control to effectively prevent the impact on the network due to the instantaneous large amount of data in the network, ensuring efficient and stable operation of user's network.
Port-based VLANs for Network Flexibility
3onedata's IES2105 series unmanaged switches can isolate 4 downlink copper ports from each other while retain their ability to communicate with the uplink port. Even if a port loop problem occurs under one copper port, the broadcast storm won't affect the normal communication of the remaining ports.
Click the model name and visit product page for more information and technical specifications of the IES2105 Series.
Applications
1. Video Surveillance System of Wetland Park
The surveillance system of wetland park is usually applied in nature protected areas, animal habitats, bird migration sites and lake districts. It can not only realize the uninterrupted monitoring of indiscriminate construction, pollution emission, ecological damage and other illegal acts, but also monitor wet conditions and wildlife conditions in order to keep track of the trend of ecological changes in wetlands.
The scope of wetland stretches dozens of kilometers, making it essential to adopt optical fiber communications for the surveillance network. The more centralized surveillance cameras are generally connected to the nearest aggregation switch, and for the remote monitoring points from the backbone network, lite unmanaged switches can be used to consolidate the data from the cameras and transmit it back to the backbone network via fiber optic links. 3onedata's IES2105 series switches provide one 100Base-FX fiber port and 4 10/100Base-T(X) PoE ports. The compact size makes it ideal for installation in crowded cabinets. The PoE function can power cameras while providing a stable and complete transmission of video data to the backbone network via fiber optic link.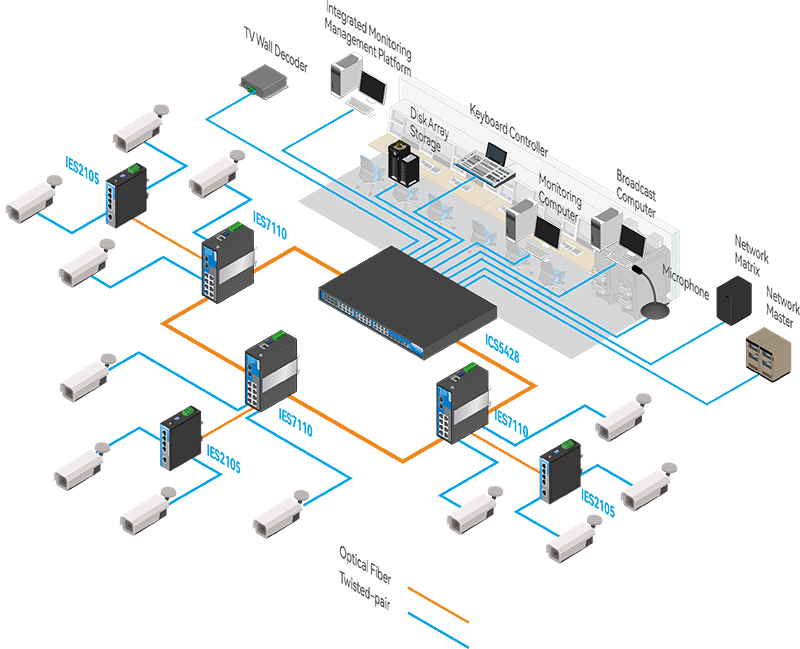 2. Driving Exam Monitoring System
The driving exam monitoring system integrates video surveillance, intelligent monitoring, satellite positioning, inertial navigation and digital communication technology, and the examination results are judged by both AI and staff.
The onboard network requires real-time monitoring of candidates' driving operations as well as the car's lighting, speed, positioning and other conditions so that AI algorithms can make judgments on irregular driving behaviors in time. 3onedata's IES2105 series switches are perfectly suitable for installation in such a small space to aggregate important data from all parts of the car and send back the video data and serial data to the driving test monitoring center via a 4G router.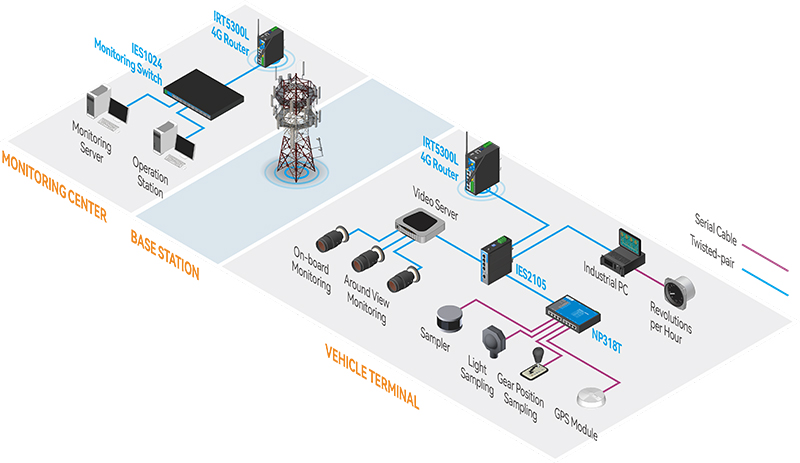 3. Intelligent Gate System of Logistics Distribution Center
The daily handling capacity of medium-sized logistics distribution centers is generally up to 1000-2000 TEU, which requires human inventory to be replaced by intelligent gate control system to achieve traffic flow guidance, alleviate gate congestion and improve the efficiency of vehicle passage by stopping for a short period of time to check.
The intelligent gate system is used for license plate recognition, container code recognition, IC card recognition, electronic lock recognition, data acquisition of electronic load meter, lane signal light, control of electronic gate and gate video surveillance.
3onedata provides serial-to-Ethernet converter NP318T to have the devices connected to Ethernet network. The Ethernet switches IES2105 and IES7110 can summarize serial data and video surveillance data and transmit the data to management system. The traffic efficiency has been improved and human cost has been reduced.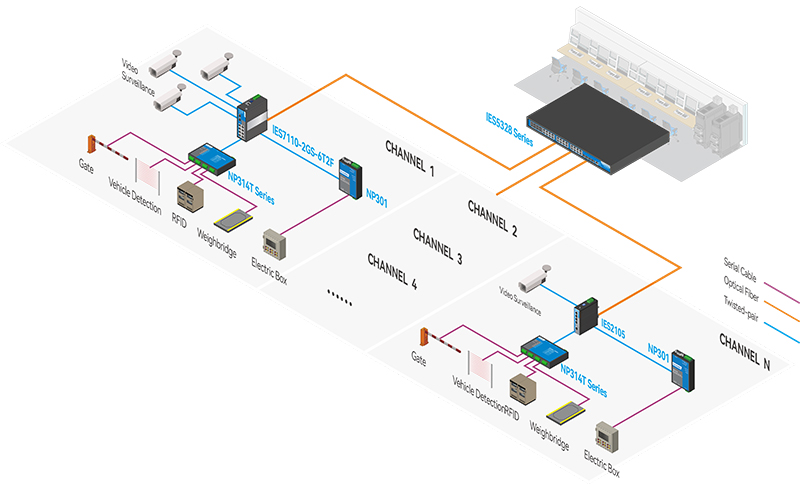 About 3onedata
Headquartered in Shenzhen, founded in 2001, 3onedata has been dedicated to IIoT for 22 years, with rich professional experience of providing industrial communication solution and service for partners and customers worldwide. In 2020, 3onedata became the first IIoT company to be listed on Shanghai Stock Exchange (SSE) STAR Market, a milestone for our sustainable growth and development.
Innovation, Value and Honor are 3onedata's core values, which guide our business strategy and operation. 3onedata attaches great importance to the overall development of the company, with continuous annual investments to ensure innovation in production, R&D and marketing in order to provide more competitive products in the market and support the success of our customers. Total Service System(TSS) is our unique operation model, providing the customer a feeling and experience of total service, which will lead to long-term effective development of 3onedata. From our persistent core values and competence in delivering great performance, we are confident in facing the uncertain future. 3onedata are looking forward to cooperating with you, for mutual benefits, and move forward together, on the way.
Website:

www.3onedata.com
LinkedIn: 3onedata
Business Contact:

Mr. Frank Zhu

, E-mail:

ics@3onedata.com