It is well known that fiber cables offer benefits such as increased bandwidth, longer transmissions distances and stronger capability of noise immunity, and the demand for media conversion between Ethernet cable and fiber communication keeps growing in recent years. 3onedata offers rugged Ethernet-to-fiber media converters that specially designed for critical industrial applications, such as machine manufacturing, factory automation, building automation, and utility tunnel, providing a reliable and cost-effective solution for industrial Ethernet to fiber conversion.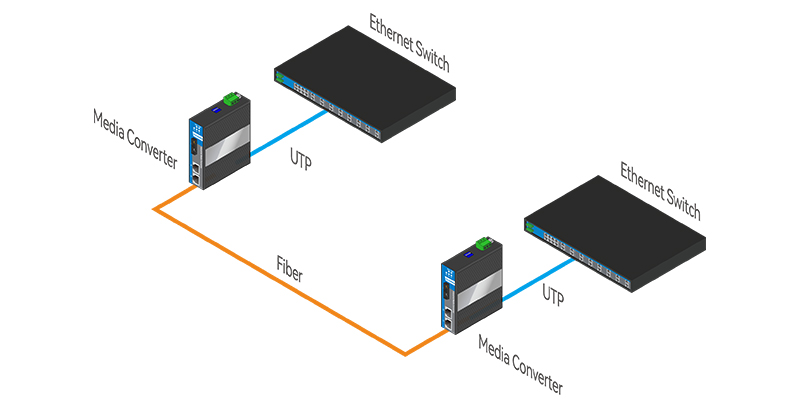 3onedata's IMC100 series media converters support conversion of 10/100Based-T(X) copper ports to 100BaseFX ports, or 10/100/1000Based-T(X) copper ports to 100/1000BaseFX ports, and are designed to endure harsh environments, such as wide operating temperatures and high EMI immunity. In additional, the 14 models of IMC100 converters are easy to mount on a DIN rail or in distribution boxes.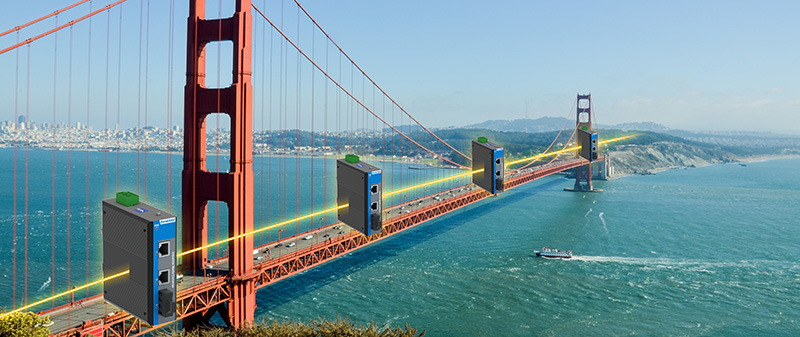 Key Features
1. Distance Extension & Cost Saving
The transmission distance of copper cables is generally limited to lengths of 100 meters, while fiber optic cables can transmit up to 20~120 kilometers. 3onedata's Ethernet-to-fiber media converters extend Ethernet connections up to 2km over multi-mode fiber or 20/40/60/80km over single-mode fiber. The IMC100 series offers optical ports at a lower cost than fiber switches, making it particularly suitable for network environments with long border lines such as highways, wayside, utility tunnel and airport borders.
2. Jumbo Frame Improves Data Transmission Efficiency
In Ethernet networking, jumbo frames are Ethernet frames with more than 1500 bytes of payload, the limit set by the IEEE 802.3 standard. As newer IP networks move toward using jumbo frames to reduce network overhead and to reduce CPU utilization, the IMC100 series media converters are expected to provide high performance and affordability for what previously was exclusive to expensive Ethernet equipment.
3. Ethernet Flow Control for Stable Operation of Network
Ethernet flow control is a mechanism for temporarily stopping the transmission of data on Ethernet networks. The goal of this mechanism is to avoid packet loss in the presence of network congestion. In half-duplex transmission mode, back pressure is used for flow control by sending a jamming signal to the source causes the source to slow down the sending speed. In full-duplex transmission mode, flow control is achieved via the pause operation and the transmission of control frames.
3onedata's IMC100 series media converters can be easily enabled with a dip switch for automatic flow control to effectively prevent the impact on the network due to the instantaneous large amount of data in the network, ensuring efficient and stable operation of the user's network.
4. Port-based VLANs Improve Network Flexibility
3onedata's IMC100 series dual copper ports media converters can isolate the 2 downlink copper ports from each other while retain their ability to communicate with the fiber port. Even if a port loop problem occurs under one copper port, the broadcast storm won't affect the normal communication of the remaining ports.
5. LFP Makes Detection and Troubleshooting Much Easier
The LFP (Link Fault Pass Through) means the link fault of media converter on one side (remote side) will be passed to the media converter on the other side (local side). When the copper port of the remote media converter is abnormally disconnected, the port fault information will be transferred to the fiber port of the same converter, which makes the fiber port stop sending data immediately. When the local media converter senses the failure of the remote port, it will automatically disconnect the fiber connection and report the alarm information. With LFP functon, the IMC100 series media converters can help network administrators quickly learn and deal with network failures and reduce the loss caused by network failures.
Specifications
1. GE Model:
·1/2 10/100/1000base-T (X) RJ45 copper port, support automatic flow control, full/half duplex mode, MDI/MDI-X Autotunning
·1 1000base-FX fiber port, 2KM@1310NM, 20/40/60/80KM@1310NM or 1550NM, SC/ST/FC or SFP optional
·MAC Address: 2K
·Backplane Bandwidth: 18.2G
2. FE Model:
·1/2 10/100base-T (X) RJ45 copper port, support automatic flow control, full/half duplex mode, MDI/MDI-X Autotunning
·1 100base-FX fiber port, 2KM@1310NM, 20/40/60/80KM@1310NM or 1550NM, SC/ST/FC optional
·MAC Address: 2K
·Backplane Bandwidth: 1G
3. HV&LV Power Input Available
·HV Model: One 100~240VAC/DC power supply terminal
·LV Modol: One or two 12~48VDC power supply terminals
4. -40 to 75°C operating temperature range, 5%~95% relative humidity range
5. IP40-rated aluminum housing, DIN-rail mountable
Click the model name and visit product page for more information and technical specifications of the IMC100 Series.
Applications
1.Highway CCTV System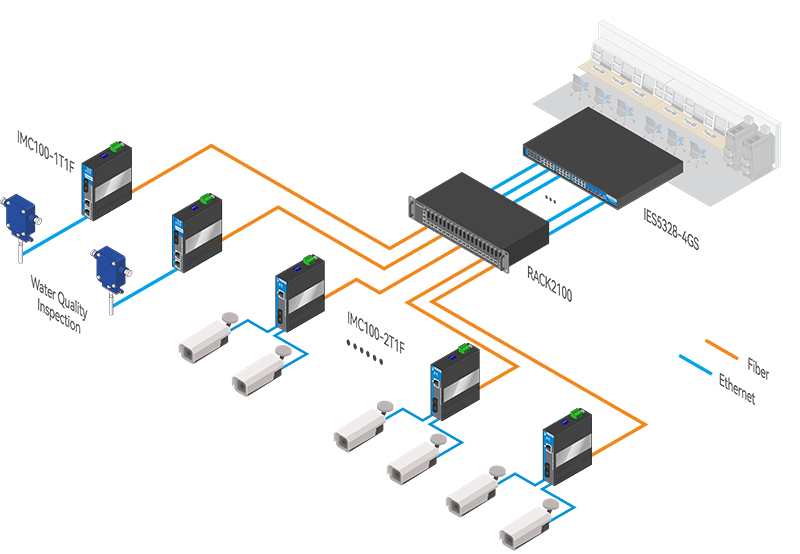 Highway CCTV system generally has two functions of video monitoring and illegal behavior capture. The former is mainly for real-time monitoring of key sections of the highway, the latter is mainly for speed measurement, capturing reverse driving, illegal parking, and other abnormal driving conditions for evidence.
Due to the characteristics of long and narrow highways, highway CCTV systems require the use of fiber optic cabling. For the video monitoring of each key section, fiber optic switches are generally used to access a specific number of surveillance cameras. And for special road sections with speed detection, reverse driving and illegal parking and other illegal behavior capture requirements, the terminal equipment of these sections is often single and discretely distributed, and the economic efficiency of using fiber optic switch is not high. 3onedata's IMC100 series media converter, supporting FE and GE, 2 kind of transmission rates, can provide up to 2 copper ports, which is very suitable for highway CCTV system.
2. River Monitoring System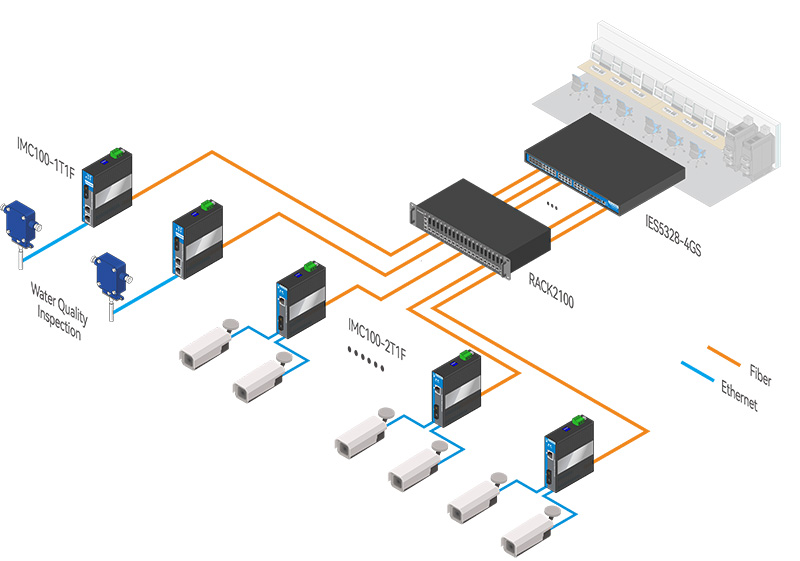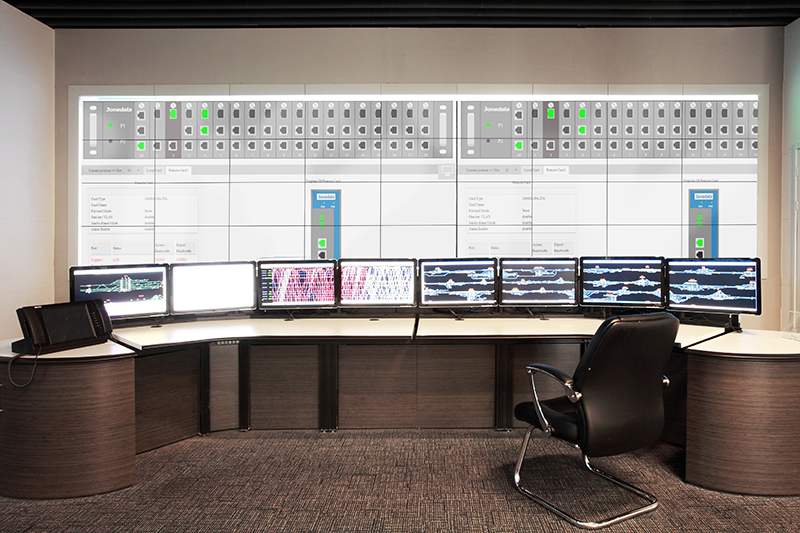 River monitoring system has functions such as river safety monitoring, river surface monitoring, coastal environment monitoring and water quality testing. River monitoring system mostly uses digital platform management, through the distribution of monitoring, centralized control and management to achieve the sending back of front-end images, digital collection volume and other information to the monitoring center, centralized cloud processing.
The stretching, winding characteristics of the river are particularly suitable for the deployment of monitoring networks through fibers. 3onedata's fiber deployment solutions provide IMC100 series 100Mbps/ 1000Mbps media converter and manageable media converter chassis RACK2100 (up to 18 slots), to help users solve the problem of video surveillance in discrete points and integrated wiring in water quality testing system. At the same time, RACK2100 can also be managed through the web and SNMP methods. It supports the graphical display of equipment parameters, operating status, to assist network administrators easily diagnose, manage and maintain the entire fiber network.
3. Airplane Assembly Plant Fire Protection System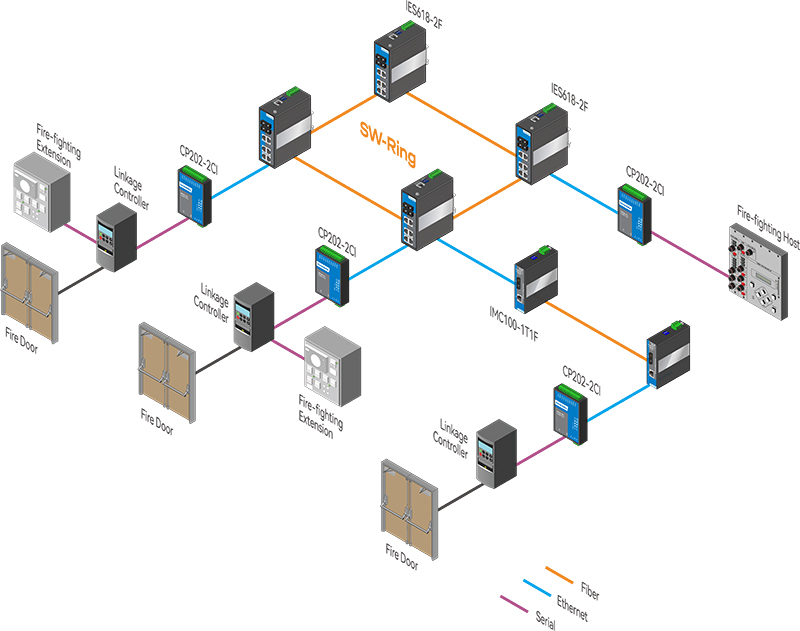 In the manufacturing process of aircraft, the paint and solvents used in the painting process are prone to volatile combustible vapors such as toluene, xylene and methyl ethyl ketone, which can easily explode when the mixture is formed with air under suitable conditions, so a stable and reliable fire protection system must be built for the workshop.
In this system, the distance between the front and rear fire doors, monitoring devices, fire extinguishing devices and the fire protection controller is long, and the points are relatively discrete, so fiber switches and media converters must be used to deploy the entire fire protection system. 3onedata's fiber deployment solution provides IMC100 series media converters, CAN servers and IES618-2F fiber switches to ensure that fire protection equipment interconnection while also offering the advantage of simplified cabling and reduced cabling costs. IES618-2F deploys ring network through 3onedata private ring protocol, which can ensure the user network to automatically resume link communication within 20ms when the network is interrupted or network failure occurs, providing a high quality guarantee for the stability and reliability of the whole network.
This ensures the system effectively suppress the spread of fire and stop the spread of smoke, providing a strong technical guarantee to ensure the safe evacuation and rescue of personnel.
About 3onedata
Headquartered in Shenzhen, founded in 2001, 3onedata has been dedicated to IIoT for 21 years, with rich professional experience of providing industrial communication solution and service for partners and customers worldwide. In 2020, 3onedata became the first IIoT company to be listed on Shanghai Stock Exchange (SSE) STAR Market, a milestone for our sustainable growth and development.
Innovation, Value and Honor are 3onedata's core values, which guide our business strategy and operation. 3onedata attaches great importance to the overall development of the company, with continuous annual investments to ensure innovation in production, R&D and marketing in order to provide more competitive products in the market and support the success of our customers. Total Service System(TSS) is our unique operation model, providing the customer a feeling and experience of total service, which will lead to long-term effective development of 3onedata. From our persistent core values and competence in delivering great performance, we are confident in facing the uncertain future. 3onedata are looking forward to cooperating with you, for mutual benefits, and move forward together, on the way.
Website: https://www.3onedata.com
LinkedIn: https://www.linkedin.com/company/3onedata
Business Contact:

Mr. Frank Zhu

, E-mail:

ics@3onedata.com