As more and more industrial applications continue to migrate to Ethernet for more complex networking needs, many systems now use Modbus TCP on a SCADA host in the control room, resulting in communication issues between Modbus RTU/ASCII and Modbus TCP protocols. A Modbus gateway is a device that converts serial Modbus protocol (Modbus RTU/ASCII protocol) into Ethernet Modbus protocol (Modbus TCP protocol). It allows you to connect your meters, PLCs, or other smart devices that communicate using Modbus RTU/ASCII serial to Modbus TCP protocol which can then be communicated over the Ethernet backbone, breaking the data barriers between OT and IT networks. Today we are going to introduce 3onedata's IGW1111/IGW1112/IGW1114 Series Serial-to-Ethernet Modbus Gateways.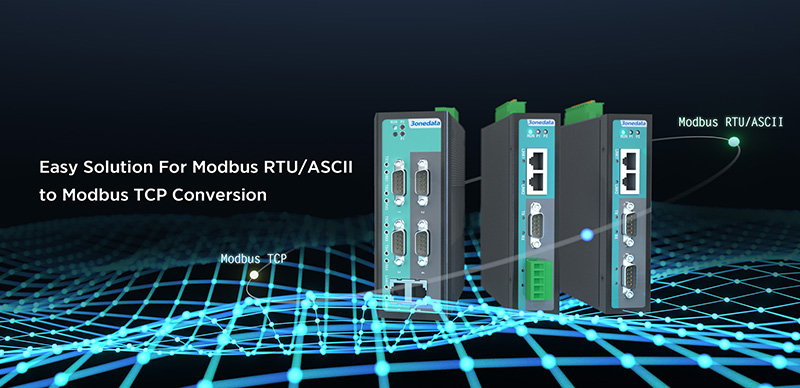 Easy Solution For Modbus RTU/ASCII to Modbus TCP Conversion
The IGW1111/IGW1112/IGW1114 Series from 3onedata are 1/2/4-serial-port Modbus gateways that convert between Modbus TCP and Modbus RTU/ASCII protocols. The Modbus gateways can be accessed by up to 256 Modbus TCP master/client devices or connect to up to 128 Modbus TCP slave/server devices. The Modbus gateways support a 110bps~115200bps (110bps~921600bps customizable) transmission speed and non-blocking communication, and provide a priority control function to allow urgent commands to obtain an immediate response. In additional, all the three models are rugged and DIN-rail mountable that make them a perfect fit for harsh environments.

High Performance with Intelligent Command Learning
Equipped with the Intelligent Command Learning function, 3onedata's Modbus gateways can significantly reduce polling time and improve system performance. With Learn-Remember-Polling-Store-Postback processes, the gateway can learn and remember the Modbus commands it receives, once a command has been learned, the gateway will act as though it were in agent mode, and actively send Modbus requests to the relevant Modbus slave devices. Since the data is saved in a different memory space that can be accessed by the SCADA system, the SCADA system can retrieve Modbus response data directly from the gateway's memory, instead of waiting for the data to pass through the Modbus devices.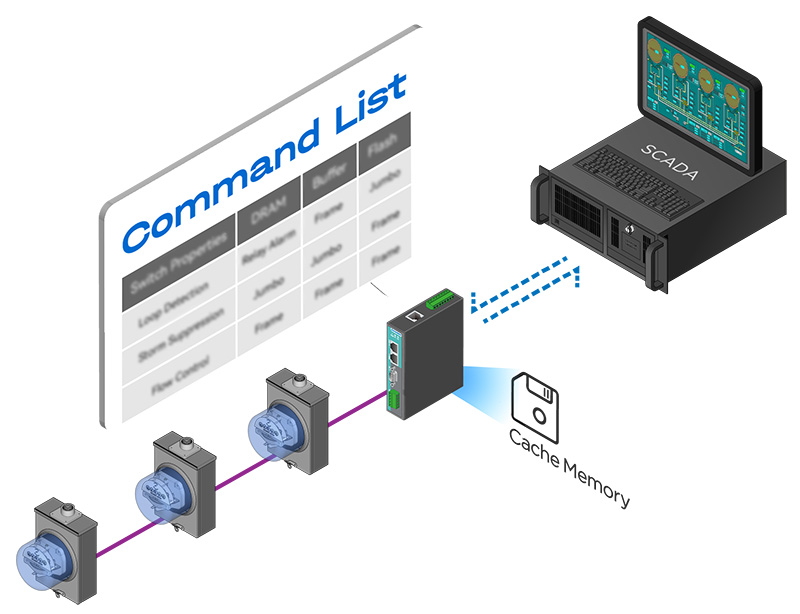 Auto-Device Routing for Easy Configuration
The Auto-Device Routing function helps engineers finish the configuration easy and fast. In the Auto-Device Routing mode, the gateway will automatically detect the connection type, the ID and destination address of the modbus slave, and establish a routing forwarding list, therefore, time and costs are saved significantly because engineers don't need to manually create the client ID routing table anymore. Moreover, it eliminates the effort needed to double-check the actual connections at field sites. This technology also does not require extra time or effort to refer to a historical mapping table when adding or removing Modbus devices.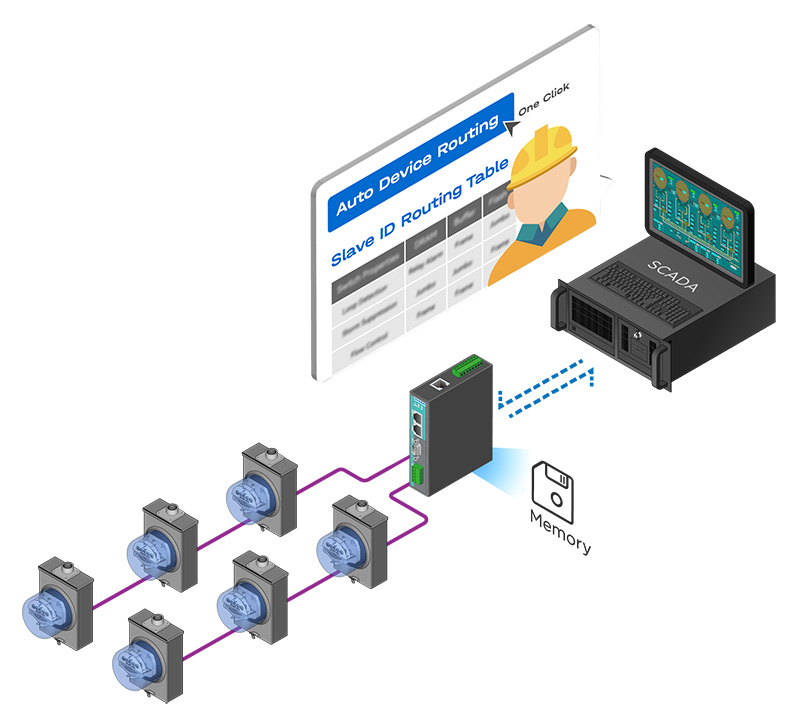 Dual Ethernet Design for Ethernet Redundancy
The IGW1111/IGW1112/IGW1114 Series provide 2 network ports, with independent IP address and MAC address, users can set them to dual IP mode or single IP mode according to specific requirements.
In dual IP mode, the two ports are isolated from each other and work on two different network segments for accessing two separate networks, thus enabling backup between different networks. When one network breaks down, the other network still transmit data normally, ensuring the reliability of data transmission.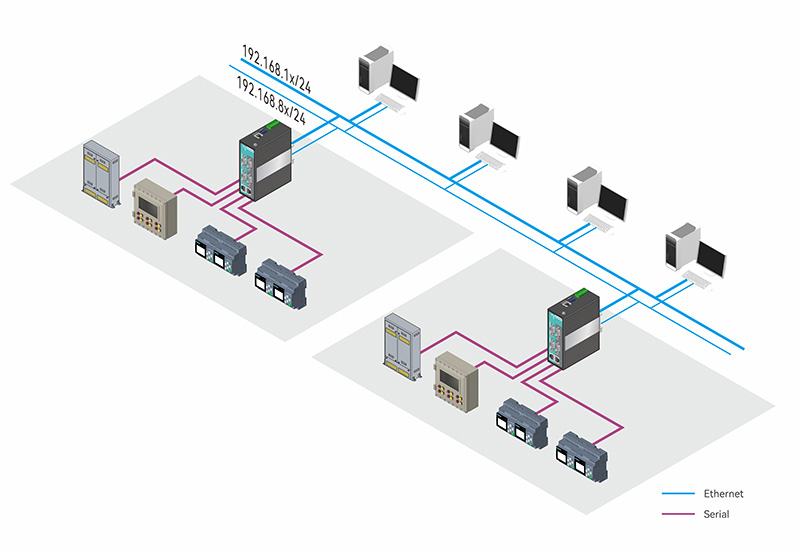 In single IP mode, the 2 network ports share a single IP address and MAC address. Users can configure the redundancy mode in single IP mode to achieve physical backup of the same network segment. In redundant mode, the IGW111X device will automatically select another link for data transmission when primary link fails, thus enabling backup on same network.

Users can also set the switching mode under single IP mode, and with Daisy chain wiring method for Ethernet, users can interconnect multiple IGW111X devices without using switch, reducing user's project budget.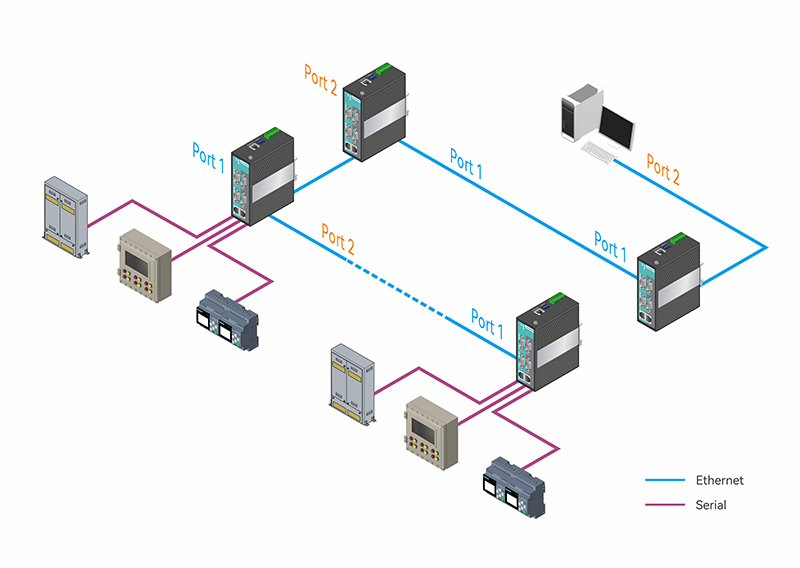 Additional Highlight
s
1.Support RTS/CTS, DTR/DSR and XON/XOFF flow control
2.Support intelligent learning mode,it is more efficient for the Modbus master to access the Modbus slave and get a reply
3.Support up to 256 Modbus TCP client (master) accesses and connect up to 128 Modbus TCP server (slave) devices.
4.Support virtual and real ID mapping to achieve flexible access between Master and Slave devices
5.Support Auto-device routing for easier Modbus slave ID configuration
6.Support IP address and MAC address filtering, which can achieve accurate access control easily
7.Support serial port status and parameters monitoring, ensuring the communication status is easy to read
8.Support multiple configuration forms and access controls like Windows configuration tool, TELNET, SSHD and WEB
9.File management is convenient for the device rapid configuration and online upgrading
10.SSHD and HTTPS can guarantee the access security of data
11.Conduct network diagnosis and troubleshooting via Ping and Traceroute
12.Support multiple alarm methods, including e-mail alarm, log alarm and SNMP Trap alarm
Specifications
1.Support 1/2/4 3IN1(RS-232/422/485 web optional) serial port, 110bps-115200bps (110bps-921600bps customizable) line speed and non-blocking communication
2.Support 2 10/100Base-T(X) RJ45 copper port, automatic flow control, full/half-duplex, auto MDI/MDI-X Autotunning
3.RS-232 signal: DCD, DSR, RTS, GND, TXD, RXD, CTS, DTR
4.RS-485 signal: D+, D-, GND
5.RS-422 signal: T+, T-, R+, R-, GND
6.Data bit:7, 8
7.Parity: None, Even, Odd, Space, Mark
8.Stop bit: 1, 2
9.Interface form: DB9 male connector
10.Flow control: RTS/CTS, DTR/DSR, XON/XOFF
11.Pull high/low resistor for RS-485: 4.7kΩ
12.Electromagnetic isolation strength: 3KVDC/2KVrms
13.Connection quantity: support up to 256 Modbus TCP client (master) accesses, up to 128 Modbus TCP server (slave) devices
14.Dual 12~48VDC power supply input
15.IP40-rated aluminum housing, DIN-rail mountable

Click the model name and visit product page for more information and technical specifications of the IGW111X Series.

Applications
1. Water Quality Monitoring System
To ensure the good quality of domestic water, waterworks have to deploy an intelligent digital water quality monitoring system. In the process of water production, the suspended solids stacked in filtering layers will cause degradation of water quality, so the filter tank need backwash with a backwash pump.
To improve backwash efficiency, the backwash pumps are usually connected to the control system of monitoring center to achieve intelligent control. The backwash pumps support Modbus RTU protocol. 3onedata's Modbus gateway convert Modbus RTU protocol to Modbus TCP protocol to connect backwash pumps to monitoring center network, achieving remote monitoring and control.
Besides, the output Modbus TCP data of remote water quality monitoring and control PLC can also fulfill Modbus TCP - Modbus RTU - Modbus TCP second conversion by implementing DTU plus Modbus gateway networking, enabling real time monitoring of water quality.

2. Power Energy Monitoring System
More and more factories start to adopt advanced energy management system to achieve the monitoring and management of energy sources such as mechanical energy, power and waterway system equipment of factory. The energy management system can be divided into three functional blocks: mechanical energy subsystem, power subsystem and waterway system.
The electricity meter and flow meter deployed in the energy management system usually support serial Modbus RTU communication protocol. Although the data volume of single device is small, but there are large quantities of devices deployed centrally, and the data requires 7*24 uninterrupted output. Server need to transmit the output data of electricity meter and flow meter back to Ethernet-based network.
3onedata's Modbus gateway can convert serial Modbus RTU protocol from RS-485 to Ethernet Modbus TCP, and support daisy-chain to connect up to 32 electricity meters or flow meters to a single RS-485 serial port to read the value of serial devices by polling mechanism. Thus significantly reduce investment of daily management and improve efficiency of fault processing for the energy management system.

3. Intelligent Oil Recovery Control System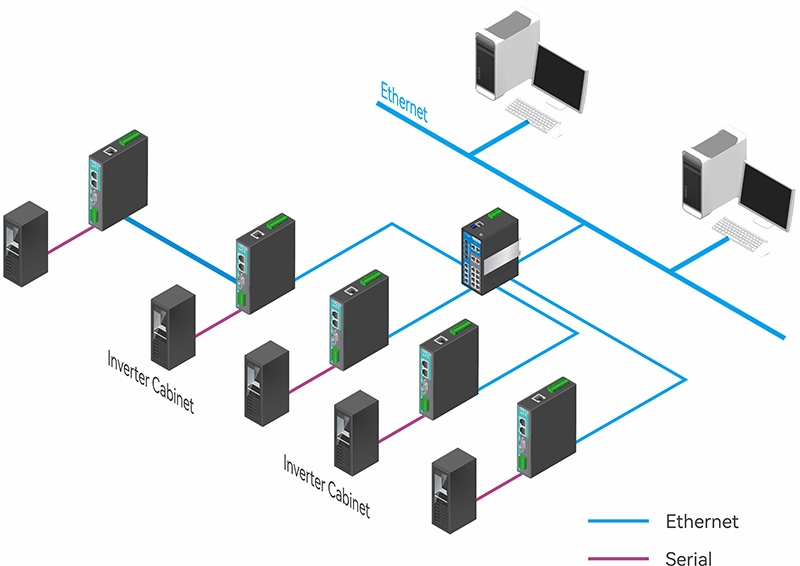 The operating state of pumping unit in traditional oil well are monitored by human inspection, some parameters can not reach management center in real time, thus greatly affect decision-making of oil well operation.
Modern intelligent oil extraction control system can monitor and collect data of pumping unit in real time, it can realize network-based management of plenty of pumping units. Field monitoring equipment collects pumping unit data such as voltage, current, etc. calculates power factor, then converts the Modbus RTU data from the inverter cabinet to Modbus TCP data through Modbus gateway and transmit to the Ethernet host computer.
The IGW series Modbus gateways from 3onedata provide two network ports, and for the IGW1111 which is far from switch, users can connect it to the network port of the IGW111 via daisy chain, complete the return transmission of the data.
About 3onedata
Headquartered in Shenzhen, founded in 2001, 3onedata has been dedicated to IIoT for 21 years, with rich professional experience of providing industrial communication solution and service for partners and customers worldwide. In 2020, 3onedata became the first IIoT company to be listed on Shanghai Stock Exchange (SSE) STAR Market, a milestone for our sustainable growth and development.
Innovation, Value and Honor are 3onedata's core values, which guide our business strategy and operation. 3onedata attaches great importance to the overall development of the company, with continuous annual investments to ensure innovation in production, R&D and marketing in order to provide more competitive products in the market and support the success of our customers. Total Service System(TSS) is our unique operation model, providing the customer a feeling and experience of total service, which will lead to long-term effective development of 3onedata. From our persistent core values and competence in delivering great performance, we are confident in facing the uncertain future. 3onedata are looking forward to cooperating with you, for mutual benefits, and move forward together, on the way.
Website: www.3onedata.com
LinkedIn: www.linkedin.com/company/3onedata
Business Contact: Mr. Frank Zhu, E-mail: ics@3onedata.com